Wonder
(2017)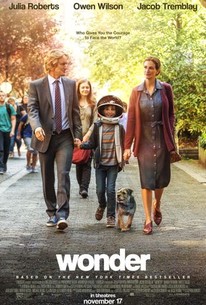 TOMATOMETER
AUDIENCE SCORE
Critic Consensus: Wonder doesn't shy away from its bestselling source material's sentiment, but this well-acted and overall winsome drama earns its tugs at the heartstrings.
Movie Info
Based on the New York Times bestseller, WONDER tells the inspiring and heartwarming story of August Pullman. Born with facial differences that, up until now, have prevented him from going to a mainstream school, Auggie becomes the most unlikely of heroes when he enters the local fifth grade. As his family, his new classmates, and the larger community all struggle to find their compassion and acceptance, Auggie's extraordinary journey will unite them all and prove you can't blend in when you were born to stand out.
Critic Reviews for Wonder
Audience Reviews for Wonder
One could argue that a film about a family with a boy suffering from a facial deformity shouldn't have its most touching scene concerning only the family dog. But that'd be unfair. The rest of the film works too. Sure, it is manipulative in making you feel for Auggie and his folks, but it has the heart at the right spot. Owen Wilson actually could have been in more scenes, he is a delight, but the rest of the cast is fine too. It's a feel good movie about values, and there is nothing wrong with that. The idea of always focusing on the protagonist but also the lives of the people around him is actually pretty sweet.
The cast is great and the film has a nice message about acceptance that should be accessible to all ages, but the problem is that it lacks focus and doesn't seem to be able to escape its share of unnecessary sappiness, reaching a sentimental ending that almost ruins it.
Carlos Magalhães
Super Reviewer
½
Sappy films aren't everyone's cup of tea, but when a film embraces its sappiness and turns it into something emotionally resonant, then I truly believe that they can be some of the best films out there. While Wonder may have looked a little overdone throughout its marketing campaign, making it out to be a film about a kid being bullied for looking different from everyone else, that's honestly just scratching the surface of what the message of this film really is. There is always a feel-good movie that I attach myself to every year, and I believe Wonder is probably the film from 2017 that did it for me. No, it's not going to win awards for originality, but quite honestly, if there was an award for moving your audience to tears, then Wonder would earn top honors. This movie deserves to be seen by everyone of all ages and here's why. Following Auggie Pullman, a young fifth grader who was born under unlikely circumstances, leaving him to deal with looking different than everyone else around him, this is a story about the courage to ignore the bad and embrace the good. I was expecting this film to be strictly about the character of Auggie, but I was pleasantly surprised to see that this film divides itself into sections that explore each of the characters that surround him and their reasoning for either being nice or mean to our protagonist. I found the construction of this film to be one of the most commendable aspects because the end result only benefited from this. Ever since I first watched him perform in Room, Jacob Tremblay continues to prove that he's either ten years older than he looks, or that he's just a gifted actor that won't let a single movie prevent him from being stellar. This young actor has an incredibly bright future ahead of him. Whether it was narration that dived into his psyche or simply his natural interaction with his friends and family, I truly saw this character as a real person, instead of a generic young actor in a movie. Owen Wilson and Julia Roberts give solid performances as well, along with Noah Jupe and Izabela Vidovic being very solid in their supporting roles. Where this film may turn some viewers off (which I think will be a very slim few) is in its eye-rolling emotional core. Look, you can't go into a film like Wonder and expect something with raw human emotion like a film that has family in and out of prison because this is for families. If you're looking for the most realistic film in terms of realism, then I would suggest looking elsewhere, but if you're up for a great family movie that will make you cry every few minutes and make you want to hug the closest person around you, then Wonder is just about as perfect as they come. This is easily the feel-good movie of 2017 that deserved every dollar it received at the box office. In the end, Wonder explores a story that feels familiar, but not exactly ever told in this way before. We've seen thousands of stories revolving around bullying and looking different, but we see it from multiple perspectives here and watching all of these characters transform around the expense of the character of Auggie was such a delight. For people who want to sit down and watch a movie that will make them feel amazing, I can't recommend watching Wonder enough. Everything about this film is well-done. From its writing that does a good enough job in exploring multiple characters to the direction that focuses on emotion first, to musical cues that will have you in tears, to the very notion that our world can be a better place if people were kinder, Wonder has it all. Aside from feeling sappy at times, I absolutely loved this movie from start to finish.
Wonder Quotes
There are no approved quotes yet for this movie.