Wonder Boys
(2000)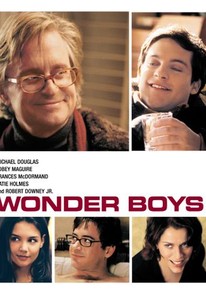 Movie Info
Grady Tripp is a professor/writer living in Pittsburgh who is struggling with writer's block. Whilst doing this, he also manages to get the chancellor pregnant. In the meantime, he and a college student, James Leer are trying to find a rare jacket once owned by Marilyn Monroe, and a college girl, Hannah Green boarding with Grady has a bit of a crush on him.
News & Interviews for Wonder Boys
Critic Reviews for Wonder Boys
Audience Reviews for Wonder Boys
½
As far as being a writer goes, I may personally just be a hack amateur wannabe, and, even though I plan on being a professor, I'm not there yet. Regardless of all that though, this movie really clicked with me, and I found myself really tapping into its frequency. The inclusion of Bob Dylan makes this already great film even better. If you're not into Dylan, or at least not later Dylan, you probabky won't agree. I think it fits perfectly though, so I'm glad it's in the movie. Even though my intro to this review showed my inability to completely relate, a movie about passionate people struggling to deal with all life puts them through is something that everyone can get, even if the specifics differ from the viewers' own personal experiences. The weary, stoner, neurotic Grady Tripp is a great character. He's someone you can love and feel for, yet he's still very ragged, and you wonder why you should continue to care, if you ever really did to begin with. Michael Douglas is fantastic as Tripp, giving one of his best performances in years. Tobey Maguire, I feel, is channeling Bud Cort's work from Harold & Maude, and it pays off. He also gives an excellent performances as the troubled and mysterious prodigy. Katie Holmes has a smaller role, but she's also pretty good. Sometimes I forget that she does have talent. Downey Jr. and McDormand also give fine performances as always. I liked that this was a small movie, and that it has high artistic vlaue, but that it isn't too pretentious or artsy, and that it became a sleeper hit. I haven't read the source material, but it seems like something I could see myself enjoying. There aren't a whole lot of overtly cinematic moments, with lots of abundant style and flair, but this is definitely a "film" as opposed to a "movie". This ranks, along with L.A. Confidential, as Curtis Hanson's best film, and one you would do well to see. It's charming, touching, and very entertaining.
Chris Weber
Super Reviewer
It's perfectly fine. I don't really buy anybody's character though. Michael Douglas, a depressive writer? Tobey Maguire, a psychopath? Katie Holmes, a writing ingenue? No, no, and no.
Jennifer Xu
Super Reviewer
½
"Wonder Boys" is just a lot of fun. It's not really saying anything in the way of college professors, writers or students, but it certainly gets all of their personalities correct. The movie is more about character and dialogue- this is an actors film. The cast works wonders with terrific work from Michael Douglas, Robert Downey Jr, Tobey Maguire, Frances McDormand, Katie Holmes and Rip Torn. "Wonder Boys" is witty, smart, energetic and extremely well acted.
Steven Carrier
Super Reviewer
Wonder Boys Quotes
| | |
| --- | --- |
| Grady Tripp: | He said things that lead me to believe this is his car. |
| Grady Tripp: | He said things that led me to believe this is his car. |
| Terry Crabtree: | What things? |
| Grady Tripp: | That's my car motherfucker. |
| Grady Tripp: | "That's my car, motherfucker." |