Wonder Wheel
(2017)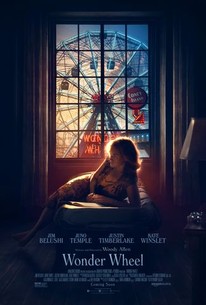 TOMATOMETER
AUDIENCE SCORE
Critic Consensus: Wonder Wheel gathers a charming cast in an inviting period setting, but they aren't enough to consistently breathe life into a Woody Allen project that never quite comes together.
Movie Info
WONDER WHEEL tells the story of four characters whose lives intertwine amid the hustle and bustle of the Coney Island amusement park in the 1950s: Ginny (Kate Winslet), an emotionally volatile former actress now working as a waitress in a clam house; Humpty (Jim Belushi), Ginny's rough-hewn carousel operator husband; Mickey (Justin Timberlake), a handsome young lifeguard who dreams of becoming a playwright; and Carolina (Juno Temple), Humpty's long-estranged daughter, who is now hiding out from gangsters at her father's apartment. Cinematographer Vittorio Storaro captures a tale of passion, violence, and betrayal that plays out against the picturesque tableau of 1950s Coney Island.
Critic Reviews for Wonder Wheel
Audience Reviews for Wonder Wheel
½
Stilted and wooden, often played as if the characters were reading the script aloud for the very first time ... and yet there is something of a story here, a Southern Gothic if you will but played on New York's dying Coney Island of the 1950's. Strong performances throughout, and I had the feeling that the players literally threw themselves and their trust entirely on writer/director Allen. By the end I realized that most the critics who panned this were wrong. This is a fair work whose drama is like the age it emulates, conflicted, under wraps and straining to be free. I recommend this.
Kevin M. Williams
Super Reviewer
The dialogue is a bit too heavy-handed and expository, as though Woody Allen was in a hurry to write and publish a theater play in about five days, but the film does have its moments and benefits from a beautiful cinematography and good performances, especially by Kate Winslet.
Carlos Magalhães
Super Reviewer
½
Say what you will about director Woody Allen, but his early filmography is still something to cherish. The numerous films of quality content are remembered and celebrated, but his more recent work has felt much more laid back. Although I haven't seen a great movie from him in a while, aside from maybe Blue Jasmine a few years back, I've always liked his style of storytelling. Wonder Wheel is his latest film and while there are many elements to like about it, it's really not all that great of a film as a whole. Allen has put himself in a spot where he has created acceptable movies for the past decade or so and I don't see him ever digging himself out of that hole. Unless you've been a die-hard fan of Woody Allen from the beginning, I honestly can't get myself to recommend this movie to you, and here's why. Ginny is married to Humpty, but Ginny likes Mickey, who likes Ginny's daughter Carolina. This situation sends the film on a whirlwind of emotions, but all predictable ones. Wonder Wheel tells this story through an interesting narrative, as Mickey (Justin Timberlake) explains the story directly to the camera, breaking the fourth wall. I've always enjoyed this sort of storytelling, so that aspect of the movie kept winning me over, but it's the rest of the film that just felt fake to me. The uninteresting and cliched romance between the married couple in Ginny (Kate Winslet) and Humpty (Jim Belushi) feels existent so that a falling out can occur later in the movie. For all of its positives, this is a movie that just feels staged throughout every revelation. Kate Winslet, Jim Belushi, and Justin Timberlake are all serviceable in their respective roles, but they also feel like they're giving just enough of themselves in order to earn a paycheck. Never once did I feel that any of them were giving their all. That being said, I found the standout of the film to be Juno Temple. Playing an innocent girl who just wants to start a life for herself and find love, I found her portrayal of Carolina to be quite inspired. Although she probably has the least amount of screen time, the character of Carolina is who and what I seem to remember most about Wonder Wheel. Woody Allen writes so many movies, that I feel it's just about his time to retire. Many of his scripts feel very much like his previous ones nowadays, seeming as though his knack has met its peak. Yes, he still remains an extremely talented filmmaker, but his body of work feels more like an assembly line of average products that people may or may not consume each year. I may be alone with that specific sentiment, but it's just my honest opinion. Sometimes filmmakers make their mark and then begin to fade away and I believe that may be happening with Allen. Looking back on Wonder Wheel, I remember enjoying the visuals and unique way that the cinematography would tell certain portions of the story at times, but the arcs of each character honestly had me bored to death. If I ever recommend this movie to anyone, it's solely going to be on the basis that they've been fans of Allen's direction from the beginning. I can't see many people thoroughly enjoying this film, because its incredibly slow pace definitely shows, even at its fairly short running time of 100 minutes. Overall, Wonder Wheel has enough solid elements to keep it from being a bad film as a whole, but there are too many distracting story points and boring characters to really recommend. This is one of the more disappointing movies of 2017 in my opinion.
Wonder Wheel Quotes
There are no approved quotes yet for this movie.