Wonder Woman
(2009)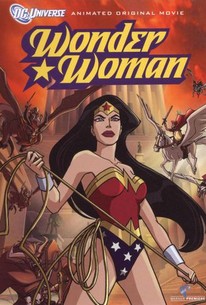 Movie Info
A graceful Amazon princess of untold strength and beauty attempts to prevent the god of war from instigating a conflict that will last for centuries and destroy the human race as the animated adventure marking the return of DC Comics heroine Wonder Woman. On the mystical island of Themyscira lives a fierce race of warrior Amazons who have raised a powerful daughter named Princess Diana. The Amazons live in secrecy from the outside world, but when Army fighter pilot Steve Travor crash-lands in their tropical paradise, the headstrong princess defies the law of the land by accompanying Trevor back to civilization. But her transition into the modern world won't be an easy one, because when Ares escapes from his Amazonian prison and begins plotting his revenge, Princess Diana is the only person who stands between the god of war, and the destruction of the human race - beginning with the Amazons. Now, as Princess Diana harnesses her unique powers to boldly fight back against Ares and save the planet from certain destruction, Wonder Woman is born and the battle for civilization begins.
News & Interviews for Wonder Woman
Critic Reviews for Wonder Woman
Audience Reviews for Wonder Woman
Wonder Woman offers a vast and epic exploration on the Amazonian Princess. With sleek animation, vision and even a hint of humor, this DC animated feature is as tremendous as its leading heroine. 4/5
Eugene Bernabe
Super Reviewer
½
Pretty decent introduction to DC's female counterpart to Superman as Aries, the god of war, plans some global thermonuclear annihilation in order to take over the reins on Mt.Olympus. More than simply a super reflection of the big guy however, Wonder Woman does boldly represent ideas of equality between the sexes, introducing the times when such introductions aren't necessary at all.
Kevin M. Williams
Super Reviewer
Hopefully this is at least some sort of inspiration for the impending live-action feature...Excellent!
Flutie Archibald
Super Reviewer