The Wonderful Ice Cream Suit
(1998)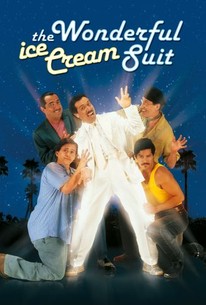 Movie Info
Middle-aged Gomez hopes to own a beautiful white suit he spots in a store window but cannot afford it. He finds four other men to each contribute $20 to buy the suit, and the five take turns wearing the shining costume for one hour, in which all of their wishes come true.
Audience Reviews for The Wonderful Ice Cream Suit
Great! A fantastic and unforgettable film. Fresh.
Lucas Martins
Super Reviewer
½
More stereotypes than you can shake a pinata stick at. Much of the performances and songs are in your face, mugging it up. But the use of close-ups is very careful and the editing is musical and flowing even when the songs and score are grating. Clifton Collins Jr. is the most sincere and the best of the group, since his expressions and voice convey that he believes, seeing through the hijinks, in all the others. For me, this fable doesn't conjure up real magic except that you never see the other shoe drop. Anything that might bring the fall from bliss is held beyond the frame without any foreshadowing even. The people don't fight over the suit; it's not rent between them in acrimony; and their camaraderie never succumbs to individual greed or selfishness. The story revolves around the strange idea that a single new object could enter a person's life and convert him/her to brimming pride, complete trust in fate, and celebration of one's imminent opportunities, one's daily surroundings and the life of all humankind. Visionary pre-credit animated sequence. Very bad video cover, and a lot of this movie felt almost that exasperating, but by the end, it gets across the magic of a certain kind of optimism in the face of the unknown.
Adam Mahler
Super Reviewer
The Wonderful Ice Cream Suit Quotes
There are no approved quotes yet for this movie.