Wonderland
(2003)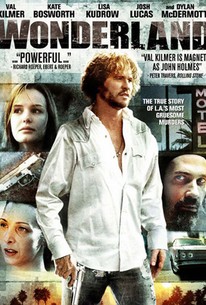 Movie Info
A chronicle of the spectacular fall of infamous porn star John C. "Johnny Wadd" Holmes. Based on a true story, the biopic explores the multiple murders that took place high atop Wonderland Avenue in L.A.'s Laurel Canyon, in the summer of 1981. At first the victims were thought to be mere drug dealers and party hounds, but the case became elevated to a classic L.A. noir when they were discovered to be connected to the infamous porn star. By the time the story begins, Holmes had already fallen from perhaps the biggest and most famous star in the hardcore industry, to a state of financial and pharmaceutical ruin. Holmes juggles two women: he is devoted to his jailbait teenage girlfriend Dawn, while still married to his wife Sharon--and the three form a most unique love triangle, particularly as the two women have a better relationship with each other, than either has with him. Holmes befriends local drug dealers Ron and Susan Launius, but soon gets himself 'neck deep' into debt and desperation. He starts playing both sides against the middle as he desperately tries to stay out of jail and stay alive. To save himself from the wrath of notorious gangster Eddie Nash, did Holmes set up his best friends for murder? It all depends on whose story you believe.
Critic Reviews for Wonderland
Audience Reviews for Wonderland
Dark tale is told in too abstract a fashion too be very involving and the whole picture is so dark it's frequently impossible to tell what's going on. Kudrow is good as Holmes estranged wife.
½
Wonderland in my opinion is fairly underrated. Based on the true story of John Holmes, a famed porn star. This film is about the Wonderland murders and John Holmes' involvement. I really don't understand why this film has gotten so much flack. I thought it was a very good film with a good cast. I'm not normally one to care for Val Kilmer, but at times he can deliver a good performance. Wonderland in my opinion is his best performance since 1995's Heat. In Wonderland, director James Cox crafts a very good dramatic thriller. The films plot is engaging and the performances of the cast are very good. Wonderland is an engaging drama film and there's plenty to enjoy from such a film. Wonderland is for me, an intense film that shows the downfall of one of the most famed porn actors at the height of his lowest point. This film is very interesting, entertaining and well put together. Director James Cox has made a good drama film. I very much enjoyed the film for what it was, and I think it's much underrated. Sure, the film isn't as strong as Boogie Nights, but it's worth watching nonetheless. If you enjoy a good real life inspired drama film, Wonderland is the film you should see. This film is much better than what most critics have said about the film. Wonderland has its faults, but for the most part, it succeeds at being a very entertaining drama with a good cast to boot. Along with a good story, what's not to like?
½
Even though you dont know this is made by a showoff director with not much to show off, and shit writers, you should want to see it because it has the most amazingly awful cast of almost any movie: Lisa Kudrow. uh. Josh (Sweet home Alabama) Lucas. ok, keep talkin'. Kate Bosworth. well how much is the "bos" worth? you have to see this movie. Christina Applegate. HOLY SHIT-CAKES. Janeane Garofalo as a junkie. A snackie snack eating Carrie Fisher who has hopefully retired her "Return of the Jedi" metal bikini. and... ANDD.... five mind-crowaving seconds of Paris Hilton as a hoe on a yacht. oh yea, the movie is about the John Holmes murder case but you don't care about that.
Coxxie Mild Sauce
Super Reviewer
Wonderland Quotes
There are no approved quotes yet for this movie.