Wonderland
(2000)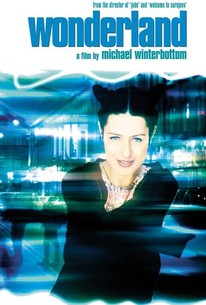 TOMATOMETER
AUDIENCE SCORE
Critic Consensus: A film that tackles something as simple as everyday life and succeeds beatifully. The witty script and clever direction keep the film flowing, while the superb acting keeps it alive. It doesn't aim for the sky and for that reason it hits its mark.
Movie Info
Eileen and Bill are marooned in a loveless marriage, both hurt by the estrangement of their youngest child, Darren. They are closer -- if only in proximity -- to their three daughters: eldest sister Debbie is a hard-partying hairdresser, separated from her ne'er-do-well husband Dan and raising their son Jack; Nadia is a lonely waitress who searches for love through the personals, which is how she meets Tim; and Molly, who's in a committed relationship with Eddie, is expecting their first child. All will find the foundations of their relationships shifting in surprising, ruefully funny and emotional ways during the boisterous annual "Bonfire Night" in South London.
Critic Reviews for Wonderland
Audience Reviews for Wonderland
caught this on TV without knowing who it was by and I was instantly captivated. The first thing is that it's filmed and set where I live, around the Elephant and Castle and Walworth Road, and it's about the people I see every day. It's absolutely spot on about the kind of lives people around here lead and the way individuals and different social groups interact. What lifts it above the sort of social realism common in British cinema is the cutting, the cinematography and Michael Nyman's lovely music, which must be his best work post-Greenaway. While I've never been a big fan of the 'poetry of degradation' school of art, somehow the ugliness and squalor of South East London are transformed by this film and the lives of the characters are invested with real dignity. Though it may deal with the same sort of subject matter as Ken Loach or Mike Leigh, the style and approach are very different - the difference between a great piece of prose and a poem. I guess you could say Winterbottom and Nyman do for London what Scorsese and Herrmann did for New York in Mean Streets and Taxi Driver. This is a beautiful film and I feel real gratitude to Michael Winterbottom for bringing our lives to the screen in such a way.
Cassandra Maples
Super Reviewer
½
Good movie. An interesting story plot.
Wonderland Quotes
There are no approved quotes yet for this movie.