Woo
(1998)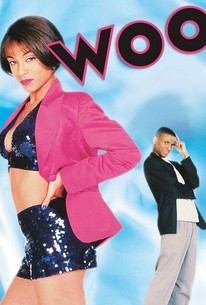 Movie Info
Daisy von Scherler Mayer (Madeline, Party Girl) directed this comedy, scripted by David C. Johnson (D.R.O.P. Squad), following the trajectory of a mismatched couple throughout the evening of a blind date in New York (but mostly filmed in Toronto). Extrovert Darlene "Woo" Bates (Jada Pinkett Smith of Scream 2) is one woman who's not afraid to take what she wants, and she has a notorious knack for turning men into mush. When Woo's psychic friend Celestrial (Girlina) predicts that the man of her dreams is about to enter her life, Woo doesn't believe it's true. Celestrial, however, is convinced that Woo is destined to meet a tall, debonair Virgo. Woo's cousin Claudette (Paula Jai Parker of Friday) and Claudette's boyfriend Lenny (Dave Chapelle of Con Air) plan to spend the night together but find themselves entertaining Woo instead. Fearing that his night alone with Claudette will be ruined, Lenny begs his best friend Tim Jackson (Tommy Davidson of Booty Call) to take Woo out -- even though shy, straight-laced law clerk Tim is the polar opposite of the sassy and brassy Woo. At first, Woo expresses disinterest in the matchmaking mismatch. But when she's told that Tim is a Virgo, she decides it's fate, jumps at the chance, and immediately heads for Tim's apartment. Meanwhile, Tim, who can't believe his luck, goes next door to his neighbor Darryl (LL Cool J of B.A.P.S.) for tips on romancing women. Darryl, who knows all the smooth moves, supplies Tim with incense, edible body oils, and a tape of sexy songs. When Woo arrives, Tim is completely smitten. Woo, however, discovers that Tim is anything but the sexy, spontaneous stud of her dreams. Finding Tim's pseudo-cool act totally transparent, she humiliates and teases him. They are just about to exit Tim's apartment when Tim gets a visit from three of his pals -- Frankie (Duane Martin of Getting Personal), Hop (Darrel M. Heath of B.A.P.S.), and Romaine (Michael Ralph of Do the Right Thing). The chauvinistic attitude of these guys irritates Woo, so she retaliates and freaks out the trio with wild, seemingly psycho behavior. Finally, the date gets underway. Woo and Tim arrive at a stuffy Italian restaurant, but Woo's behavior gets them thrown out. They go to a dance club, where Tim becomes the victim, punched out by Woo's ex-boyfriend. Woo likes a good laugh, and when Tim discovers the theft of his flashy new car, she finds this hilarious. "Maybe we could be having a good time, if you could control your psychotic mood swings," says Tim. And so it goes, straight on till morning. Billy Dee Williams portrays himself in a brief fantasy sequence. Daisy von Scherler Mayer is a native New Yorker who made film history when her movie Party Girl became the first feature film to premiere on the Internet (on June 3, 1995).
Audience Reviews for Woo
terrible, one of the worst films of all time
Woo Quotes
There are no approved quotes yet for this movie.