Woodstock: 3 Days of Peace & Music
(1970)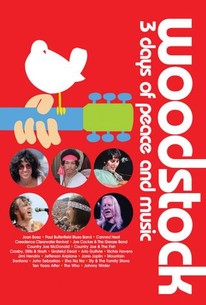 Woodstock: 3 Days of Peace & Music Photos
Movie Info
This iconic musical documentary covers the three-day 1969 music festival on the property of Max Yasger's farm that symbolized the late 1960s in terms of musical, social and political ideology of the era. American audiences are introduced to Ten Years After, featuring guitar great Alvin Lee. Jimi Hendix, The Who and Joe Cocker give riveting performances. As naked flower children romp, the New York freeway is closed because of traffic congestion. Music lovers leave their cars and travel on foot only survive torrential downpours of rain, food shortages and non-stop music. Jefferson Airplane gives the wake up call with their song "Volunteers Of America." Crosby, Stills and Nash deliver a memorable performance. John Sebastian gives an impromptu set with a borrowed guitar from Tim Hardin. Santana, Sly and The Family Stone, Sha-Na-Na, Arlo Guthrie, Richie Havens and Joan Baez also appear. The movie did big box office business and a successful three record set sold millions of copies. The Grateful Dead, Credence Clearwater Revival and Janis Joplin performed but were not shown in the film. The Dead's Jerry Garcia recalled that it was the worst live show the band ever did, ironic for a band known for their spirited live performances. ~ Dan Pavlides, Rovi
Critic Reviews for Woodstock: 3 Days of Peace & Music
Audience Reviews for Woodstock: 3 Days of Peace & Music
Many documentaries begin from the awkward position that can be described as " I am showing you something" or "I am teaching you something" but amazingly (for the format) this one is altogether different. Here is nothing short of an experience and one that (its obvious relevance aside - and there's wave upon wave of relevance here) you wish you could actually attend. Be assured: the brown acid is not poison, its just poorly manufactured ... take only half a tab to find out if its right for you.
Kevin M. Williams
Super Reviewer
½
Poignantly, magical and entertaining, Woodstock it's an unforgettable trip to the 60's. With precious footages, director Michael Wadleigh, in his best work, bring one of the best documentarys about American, music, hippie, young adults, love & peace culture. A terrific study about different social levels and generations in a historical moment. 230 minutes of dazzing music and footages of a symbolized time and place. Fresh.
Lucas Martins
Super Reviewer
A beautiful, transcendent, enormously important film about music, culture, passion, and people, and how for three days in 1969 more than 500,000 people came together to celebrate music and each other in the prime days of the hippie age. Director Michael Wadleigh has compiled some of the most layered, genuinely powerful music from the age in which music mattered (unlike today's generation which is buried by artists who exemplify misogynistic, narcissistic, and selfish traits), and when a group of people this large felt like family. This movie has a "Dazed and Confused" sort of feel to it in the sense that you feel like you are part of this crowd, watching Jimi Hendrix shred his guitar, or a heroin-addled Janis Joplin screech and holler as the crowd stands in awe of the kind of music that existed during these days. More importantly, this film serves as a unique time capsule that fully encompasses a culture paranoid about the Vietnam War and its affects, but still at ease with their lives and open to creating new friendships. One of the best documentaries ever made by far, and a film I will probably want to re-visit numerous times just so that I can wish my generation knows how far we have fallen in what is considered to be "good/great music".
Dan Schultz
Super Reviewer
Woodstock: 3 Days of Peace & Music Quotes
There are no approved quotes yet for this movie.