Wordplay
(2006)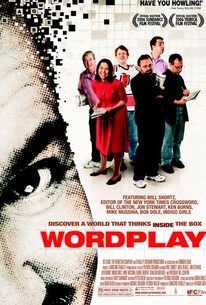 TOMATOMETER
AUDIENCE SCORE
Critic Consensus: You see them hunched over with their brows furrowed, folded newspaper in hand as they attempt to complete the crossword puzzle. This may even describe you. This ingeniously edited documentary introduces viewers to some of the more dedicated fans of this solitary pastime, none more well-known the puzzle editor for the New York Times, Will Shortz. This underground world provides a surprising amount of crowd-pleasing entertainment and suspense, especially at the annual crossword tournament. Didn't know there was one, did you?
Movie Info
This documentary film provides an in-depth look at "The New York Times" crossword puzzle, its editor Will Shortz and the wonderfully unique and loyal fan base Shortz has built and nurtured during his 12-year tenure at the paper.
News & Interviews for Wordplay
Critic Reviews for Wordplay
Audience Reviews for Wordplay
½
Recently I've watched films about those obsessed with Scrabble, Chess, and Cinema. This was probably my favorite. First of all, all the people featured in this documentary seem to be able to function. They make friends, relationships, study, have jobs, etc. This makes them easier to relate to and makes their talents more impressive. Unlike Scrabble, where people just memorized words, and not their meaning, here the contestants need some intelligence. The documentary loses points as it focuses too much on just The New York Times crossword puzzle. Which is fair enough, and leads to us seeing the creation and editing of crosswords. However, it comes across as an advertisement sometimes. Luckily, there is a lot of interest here. You wouldn't believe how much work goes into a simple puzzle, and how clever they can be. I never knew a puzzle could be witty until I saw the election of Bob Dole/Clinton section. It all boils up to a fantastic tournament finish. What I loved about this was that I was routing for all three finalists, and it was an unpredictable, heart-breaking, but also uplifting ending. It contained a lot of emotions without the manipulation you find in sport biopics.
Luke Baldock
Super Reviewer
Oh freakin' man! Such thrilling and fantastic geekery! Special features are totally money. Maybe if Helvetica had solicited the yesman pandering of some late night news comedian or some MVP baseball player or oh, you know, a president or two, it would have been a bigger hit at the box office :~P
Alice Shen
Super Reviewer
Jay Hutchinson
Super Reviewer
Wordplay Quotes
There are no approved quotes yet for this movie.