Words and Music
(1948)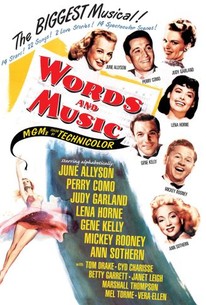 Movie Info
The life stories of Broadway tunesmiths Richard Rodgers and Lorenz Hart are prettified for the screen in MGM's Words and Music. Billed fourth, the colorless Tom Drake plays Rodgers, but never mind that: the film belongs to Mickey Rooney, as the dynamic, self-destructive Lorenz Hart. Understandably, Hart's bisexuality is downplayed. According to MGM, his biggest problem in life is that he was never satisfied with his work. We are, however, especially when those great Rodgers & Hart tunes are performed by the likes of Judy Garland, Janet Leigh, Perry Como, Lena Horne, June Allyson, Cyd Charisse, Betty Garrett, Ann Sothern, Mel Torme, Allyn McLerie, Gene Kelly and Vera-Ellen. The musical highlights include Garland's powerhouse rendition of Johnny One-Note, Kelly's Slaughter on 10th Avenue dance solo, Horne's interpretation of Where or When, Allyson's take on Thou Swell, and, best of all, Rooney's premiere performance of I'll Take Manhattan, which he allegedly had just written on the back of an automobile advertisement!
Audience Reviews for Words and Music
½
There's some great stuff here, the music of course and the Slaughter on 10th Avenue ballet with Vera-Ellen and Gene Kelly is amazing. Janet Leigh is lovely and impossibly young but is given nothing to do but Drake is bland almost to the point of invisiblity and Rooney is frankly a major hambone here terrible and annoying beyond measure. The songs and dances are five star but the story, most of which is fiction, is one.
Words and Music Quotes
There are no approved quotes yet for this movie.