Words And Pictures
(2014)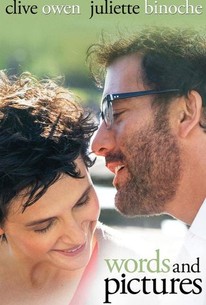 TOMATOMETER
AUDIENCE SCORE
Critic Consensus: While both talented performers in their own right, Juliette Binoche and Clive Owen are decidedly mismatched in Words and Pictures, and they aren't done many favors by the movie's awkwardly constructed screenplay.
Words And Pictures Photos
Movie Info
A witty romantic drama, WORDS & PICTURES stars the engaging duo of Juliette Binoche and Clive Owen working together on-screen for the first time. Prep school English teacher Jack Marcus (OWEN) laments his students' obsession with social media and good grades rather than engaging with the power of the written word. A one-time literary star, Jack has not published in years filling his spare time with drink versus the art of language. He meets his match in Dina Delsanto (BINOCHE) - an abstract painter and new teacher on campus, who was once celebrated for her art. From the start, the two flirt and provoke each other with equal relish. (C) Roadside
Critic Reviews for Words And Pictures
Audience Reviews for Words And Pictures
Very different American romantic drama directed by 74-year old Aussie director Fred Schepisi brings a very odd mixture of characters. It brings the vast experience of a winning director, a mature view of life and immature approach and reactions to events from that life in the story, excellent acting, and it almost seems like a tribute for a profession which started all other professions - teaching! I am glad that was screened in the Gala Presentation section at the 2013 Toronto International Film Festival, but this is not Schepisi's best work - far from it! The story background is happening at Croyden, a wealthy prep school in Maine that hires teachers for their advanced courses who are accomplished professionals. Jack Marcus is supposedly one of those - a writer and poet who teach the advanced writing class. He loves who he does, he is good in it, challenging and inspiring his students. Describing how good writing creates an image, like Haiku or John Updyke's descriptions, his students understand the significance of the words. But, despite being a published author, he hasn't written or published anything for years, and gets a writer's block when he tries to write. The school literary magazine, which is his pride and joy, is going to be axed for budgetary reasons, and this alcoholic, who arrives late to work and is on the verge of being fired, decides to fight. It is not easy fighting back when school hears that he has been banned from the local restaurant because of his drunken behaviour and his adult son from his marriage becomes estranged because of Jack's drinking and irresponsibility... Jack still does it, with a very unlikely partner! I think that we would all have difficulty finding a romantic drama these days with such less sympathetic characters as Jack Marcus (Clive Owen) and Dina Delsanto (Juliette Binoche). Old fashioned directing felt very comfortable but the odd thing here was the screenplay. At the end felt like few life moments put together for some eulogy not a carefully edited artistic creation - mainly because of the very unconventionally structured screenplay. It seems that t the end I enjoyed it, but my thoughts are that this could be an outstanding film if the screenplay was different.
½
Ah, yes, the classic album that broke Dream Theater out... right? Man, I am working surprisingly hard to not call this film "Words and Images", and it would be a whole lot easier if Bob Snider, who made an EP titled "Words and Pictures", was nearly as notorious as Dream Theater, which should tell you just how obscure Snider is. Fred Schepisi must be a bit of a Dream Theater fans, because long before this, he did "Six Degrees of Inner Turbul-I mean, "Six Degrees of Separation", although Schepisi's films aren't quite as exciting a Dream Theater song. I don't know how much intrigue you can get out of a romantic film that's about an English teacher falling in love with an abstract painter, and griping about kids and their cell phones along the way. Sorry, Clive Owen, but I don't think that a picture is worth a thousand words anymore, because Twitter can only hold 140 characters. Now, I guess this picture, on the other hand, is well worth a thousand words, because just about all it is is a whole lot of chatter. No, this film is more interesting than I jokingly make it sound, but not exactly by a long shot, no matter how overblown it may get, at least with characterization. Well, the characters aren't so much overblown, as much as their basic nature is, with many supporting character types being one-dimensional and contrived (Adam DiMarco's role of the hot-headed "lady's man" is embarrassing), while the leads prove to be only slightly richer, featuring few layers that aren't worn by the performers, and aren't plentiful enough to compensate for the improbably overwrought flaws that make the protagonists not very sympathetic, or even likable. The flimsy character drawing is more a fault with script than it is with the story concept, although one has to give Gerald Di Pego's writing credit for trying to cloyingly liven up a story that is startlingly thin, with no real consequence, or conflicts beyond a ludicrous feud between two overly proud teachers. The story is problematic, as is the scripting, for misguided characterization is further corrupted by characters and expository traits which are as unevenly used as dramatic touches which are about as contrived as the characterization is in most every other way, which isn't to say that writing issues end there, for there is also some overblown wit to dialogue and flatness to humor, made all the worse by familiarity. This film may have a refreshingly respectable atmosphere, and smart highlights in writing, but it's rich with clichés, in the writing and even in the plotting, which follows a seriously predictable path that I could get behind more comfortably if it didn't demand so much patience. So thin and flimsy, this film run nearly two hours in length, and, oh man, that is so blasted long, and a whole lot of aimless, if not monotonous fat around the edges to be made all the more palpable by a dry atmosphere that, while plenty respectable, is kind of dulling, as well as detrimental to a sense of momentum that was always to be limited. This is an inconsequential story concept, and it cannot afford to be so heavily bombard with contrivances, clichés, cheese and, of course, monotony, backed by a bland atmosphere, thus making for a film that is not simply underwhelming, but run a great risk of falling pretty deeply into mediocrity. Decency is maintained by a hair, but maintained nonetheless, because as flimsy as this film is, it has a fair bit about it that's worth commending, with even its story concept having some form of intrigue. As seriously inconsequential as this film's story concept is, there is some intrigue to themes regarding the importance of words and visuals, particularly when it falls behind conflicts and major plotting elements that, while contrived and unbelievable, have a certain color, and, with it, a potential for liveliness. Gerald Di Pego's script doesn't really carry too much liveliness, because there's something lazy about it in most every way, enough so for it to play an instrumental role in rendering the final product mediocre that would be more devastating if it didn't have its strengths, such a clever, if a little contrived dialogue to make up for the misses in the hit-or-mess, often derivative humor, and hold your attention through all of the limp spells in plotting. In a lot of areas, Di Pego's script is seriously misguided, and in a few key areas, it's smarter than the average flick of this type, with a certain respectability to compliment the color, with the help of Fred Schepisi's direction. Well, I don't know if Schepisi's storytelling is all that colorful, because it's so dry, and yet, such a steady pace, while emphatic of an unreasonable length, carries an aura of respectability that, when complimentary to the wit of the writing, really endears those willing to take this film for what it is, as an either clichéd fluff piece, or overlong clever twist on the usual rom-com. Yeah, there is ultimately little to praise, and plenty to criticize, and that poses a great threat that would be greater if it wasn't for those distinct strengths in the writing and direction, or for a pair of leads who are more than this film, or even their roles deserve. There's not much dimension to any characters, really, but the thin areas in the characterization of the lead roles are particularly unnerving, carrying a certain unlikability that is adequately compensated for by their portrayals' being of relatively considerable quality, with Juliette Binoche carrying the passion and frustration of an artist with rheumatoid arthritis who seeks for something she can hold onto and fight for, while Clive Owen, in a surprisingly layered performance, proves to be thoroughly charismatic as a clever jerk, whose eventual redemption is sold by the emotional commitment in Owen that sells a man's coming to terms with his flaws and mistakes. If there are dramatically effective moments, then they are powered by the leads, but perhaps more than anything, Binoche and Owen define the charm of this romantic-comedy, which could have fallen flat, even with its wit, but is saved as a fair vehicle for the leads' talent, and for other endearing elements, however limited they may be. In conclusion, the story is inconsequential and hard to buy into, especially with a script that delivers on contrived characterization, some flat spots in the wit, a wealth of clichés, and excessive dragging that is made all the more palpable by a certain dry, almost bland atmosphere, thus, the final product all but collapses as mediocre, saved by the intriguingly smart aspects of the story concept, writing and direction, and by the strong performances by Juliette Binoche and Clive Owen which secure Fred Schepisi's "Words and Pictures" as an ultimately endearing, if challenging rom-com portrait on the majesty of words and art, and their authors. 2.5/5 - Fair
Cameron Johnson
Super Reviewer
½
Showy romantic drama formula, in a weighty jive.
hawk ledge
Super Reviewer
Words And Pictures Quotes
There are no approved quotes yet for this movie.