The World According to Garp
(1982)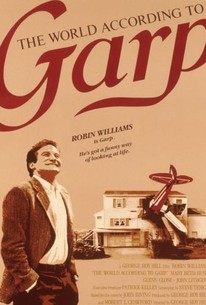 The World According to Garp Photos
Movie Info
The 1982 film version of the John Irving novel The World According to Garp attempts to captures the quirky spirit while condensing the Irving original. Robin Williams plays the title character, the son of unmarried, unorthodox feminist Jenny Fields (Glenn Close, in her film debut). Every effort made by Jenny to broaden Garp's outlook on life -- she even arranges for him to spend the night with a hooker (Swoosie Kurtz) -- crams more fears and phobias into his psyche. Aspiring to become a novelist, Garp succeeds in this goal at the same time that his mother publishes her first feminist manifesto. Though successful and happily married to college sweetheart Helen Holm (Mary Beth Hurt), Garp remains envious of his fearless mother, who has taken in the radical "Ellen Jamesians," a group named after a young woman who had her tongue cut out by a rapist. Mutilation, in fact, becomes something of a leitmotif in Garp's life, climaxing (in every sense of the word) in an auto accident brought about by Helen's tryst with Michael Milton (Mark Soper). There is, of course, much more to the story than this: standing out amongst the dozens of offbeat supporting characters is John Lithgow as Roberta Muldoon, a transexual ex-football jock. John Irving appears as a referee during a college wrestling match, while director George Roy Hill plays the pilot whose low-flying plane crashes into Garp's new home. The World According to Garp didn't attract as large an audience as other, more conventional Robin Williams vehicles, though Close and Lithgow would both be nominated for Best Supporting Actor statues.
Critic Reviews for The World According to Garp
Audience Reviews for The World According to Garp
A very strange and unabashed tale of the eccentric, John Irving's novel of the same name has been adapted into the story of T.S. Garp, a man whose life has never been normal. Raised by a nurse who raped a dying soldier, and works in a boys' dormitory, Garp finds his footing amongst writers, falls in love, and has an entire lifetime of adventures along the way. This film is bigger than life and contains strange incidents that make up Garp's life, including marital stress, death, assassination, heartbreak, and a gaggle of Ellen James' admirers. Supported in his life is his professor wife (Hurt), children, transsexual friend Roberta (Lithgow), mother, and other friends. The story is very strange, and by the end you will think so too, and yet it's also exquisite in its weirdness, its ability to shift and change as it adapts to new characters, new challenges, and new ways of thinking. It's simply a beautiful film that feels like a novel in poetic repose.
Spencer S.
Super Reviewer
Scattershot cutaway look at John Irving's involving work ain't too bad, but the large source material refuses to be simply condensed into movie form and what suffers is the work's emotive impact. Mom sleeping with a dying guy, potent sure, but given short shrift in the film, and so most of the other climatic moments. Still, a different Williams film, Glenn Close's debut (and she's not too shabby, eh?), and overall interesting viewing.
Kevin M. Williams
Super Reviewer
½
Drama, comedy and romance. A wonderful film, full of surprises, showing delicate theme, how: bastard sons, homosexuality, feminism, adultery and infantile sexuality. All this recounted by the protagonist, T.S. Garp. A great black romantic comedy, that commotion your spectator.
Lucas Martins
Super Reviewer
The World According to Garp Quotes
There are no approved quotes yet for this movie.