The World Is Not Enough
(1999)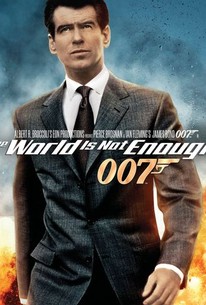 TOMATOMETER
AUDIENCE SCORE
Critic Consensus: Plagued by mediocre writing, uneven acting, and a fairly by-the-numbers plot, The World Is Not Enough is partially saved by some entertaining and truly Bond-worthy action sequences.
The World Is Not Enough Photos
Movie Info
James Bond, the world's greatest secret agent, is sent once more into the breach in the name of Queen, Country, and a dry martini. In the 19th Bond adventure, 007 (Pierce Brosnan) must resolve a potentially deadly power struggle between two unstable nations, with control of the world's oil supply as the ultimate prize. Bond is assigned as bodyguard to Elektra King (Sophie Marceau), the daughter of a petroleum magnate who was brutally murdered, and is trying to foil the fiendish plot of Renard (Robert Carlyle), a villain who was shot in the head with an unusual result: he cannot feel physical pain, an apparent failing that proves to be a considerable asset. Denise Richards appears as Dr. Christmas Jones, an expert on nuclear weapons, alongside Desmond Llewelyn as Q, Judi Dench as M, Samantha Bond as Miss Moneypenny, and John Cleese as R. Alternative rock band Garbage performs the theme song. ~ Mark Deming, Rovi
News & Interviews for The World Is Not Enough
Critic Reviews for The World Is Not Enough
Audience Reviews for The World Is Not Enough
Weaker Bond with possibly the worst Bond girl in Denise Richards. Certainly the worst actress! The story is blah as well.
Amazingly, they made a Bond film that's ruined by the talentless Bond Girl. Denise Richards may be pretty to look at, but she's gotta learn to keep her mouth shut if she wants to remain attractive. Stick to pin-up work, Toots!
Christian C
Super Reviewer
Contrary to reviews and popular belief, The World is Not Enough is actually one of the better Bond movies in the series and on par with Goldeneye (largely considered the best of Brosnan's era). It's certainly better than anything Roger Moore was ever involved with. After a strong start and a disappointing follow-up, Brosnan brings back the potential he showed in Goldeneye and delivers the best Bond since Connery. He does not quite match Connery, but he is very close. Timothy Dalton was probably the coldest Bond, while Connery was the best at matching the wit and humor with the deadliness of a person with a license to kill, but Brosnan is a perfect balance between the too. He is colder than Connery and funnier than Dalton. The villains in this one don't match the series best, but they are effective enough and better than the ones in Tomorrow Never Dies. Sophie Marceau is one of the best Bond girls and even has a few tricks up her sleeve. Denise Richards has been ridiculed since her appearance in this movie, which garnered the Razzie, and although she is far from good as the Russian scientist, she is not terrible either. Robbie Coltran returns from Goldeneye as Zukosky in another enjoyable performance and even gets more to do this time around. This film would be Desmond Llewelyn's final performance as Q, which is really sad because he has just been wonderful and it won't be the same without him, but John Cleese as his new sidekick in training is rather hilarious. Judi Dench also returns as M, but this time around her fiery spirit is sidelined for a major part in the plot that shouldn't be spoiled. The plot itself is hard to follow at times, but is a rather enjoyable one thanks to some nice twists. There's so much well done action that the story almost never slows down and the pacing is just fantastic. This is the most entertaining Bond film in a very long time (probably since Connery). Brosnan's era has been ridiculed for being too high tech and relying on gadgets, but I haven't seen that up to this point. There's certainly a ton of gadgets, but they are so enjoyable and well implemented that it's a joy to watch. This is Bond after all and suspending disbelief is a must. The World is Not Enough works well within the formula of a Bond movie, but once again a Brosnan Bond film outshines most of its predecessors.
Josh Lewis
Super Reviewer
The World Is Not Enough Quotes
| | |
| --- | --- |
| Valentin Zukovsky: | Can't you just say 'hello' like a normal person? |
| | |
| --- | --- |
| Q: | I've always tried to teach you two Things. First, never let them see you bleed. |
| James Bond: | And the second? |
| Q: | Always have an escape plan. |
| | |
| --- | --- |
| Elektra King: | I could have given you the world. |
| James Bond: | The world is not enough. |
| Elektra King: | Foolish sentiment! |
| James Bond: | Family motto. |
| | |
| --- | --- |
| Renard: | Welcome to my nuclear family. |