World Trade Center
(2006)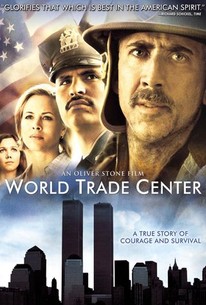 TOMATOMETER
AUDIENCE SCORE
Critic Consensus: As a visually stunning tribute to lives lost in tragedy, World Trade Center succeeds unequivocally, and it is more politically muted than many of Stone's other works.
World Trade Center Videos
World Trade Center Photos
Movie Info
Director Oliver Stone once again offers a powerful and provocative story based on real-life events in this drama. Sergeant John McLoughlin (Nicolas Cage) and William J. Jimeno (Michael Peña) were two officers assigned to New York City's Port Authority who were working their beats on a quiet day in early fall when they received an emergency call. The day was September 11, 2001, and McLoughlin and Jimeno were among the policemen who attempted to evacuate the World Trade Center towers after they were struck by airliners piloted by terrorists. Both McLoughlin and Jimeno were inside the fifth building of the World Trade Center when the towers fell, and were two of the last people found alive amidst the wreckage. As McLoughlin and Jimeno struggled to hold on to their lives as rescuers sifted through the rubble, their spouses -- Donna McLoughlin (Maria Bello) and Allison Jimeno (Maggie Gyllenhaal) -- clung to the desperate hope that their husbands would survive and be found. As the McLoughlin and Jimeno families waited for word on the fate of the two men, they watched as a city and a nation came together with strength and compassion in the face of a tragedy. World Trade Center was based on the true story of John McLoughlin and William J. Jimeno, both of whom cooperated with producers in the making of this film. Producer Debra Hill died during production -- hence the posthumous credit. ~ Mark Deming, Rovi
News & Interviews for World Trade Center
Critic Reviews for World Trade Center
Audience Reviews for World Trade Center
Will Jimeno: Don't fall asleep, Sarge!  "A True Story of Courage and Survival." World Trade Center is a sad, moving film from Oliver Stone that tells the story from a couple of cops and their families point of view. The film isn't necessarily a thrilling movie to watch in standard terms, but there is a great sense of suspense, especially if you don't know what happens. It's hard to watch at times because the emotions seem so real, but there's no way you'll look away from the screen. This is a story that needed to be told and thankfully it was.  Port Atlantic cops respond to a plane flying into the World Trad Center. There's rumors amongst them that the second building got hit too, but none of them know for sure what is going on. The sergeant decides to take a team into tower one to try to save anyone they can, but as soon as they are about to go up, something happens. They don't really know what, but it leaves most of the team dead and a few of them trapped beneath the rubble. The only way they can survive is by trying to stay awake until someone finds them beneath all of the rubble. This isn't Oliver Stone's best movie, but it is just like most of his, in that it is extremely important. You'd be surprised to see that Stone doesn't take a political stance on the attacks, which really surprised me the first time I saw it. Instead, he shows us that day from the vantage point of a few cops and they didn't really have any idea what was going on. We almost relive the day as we watch news footage and see everyone crying. It's not a movie about the attacks, but a movie about two cops and their fight for survival.  The cast brings out the most in this movie. I know everyone has their own opinion on Nicholas Cage, but I thought this was one of his best roles in the last 10 years or so. Also, another standout is Michael Shannon as an un-active marine that makes his way to Ground Zero to try to find any survivors. The movie is told with a true sense of humanity and caring about others lives even when it could cost them theirs. World Trade Center is a movie that everyone needs to see once.
Melvin White
Super Reviewer
This is one of Oliver Stone's best films. Although not as powerful as United 93, World Trade Center tells the courageous true story of two firemen, John McLoughlin and Will Jimeno Two Port Authority officers that were stuck in the debris of the World Trade Center upon the collapse of the towers on September 11, 2001. World Trade Center is good drama that tells the human side of these atrocious acts. Nick Cage is surprisingly good here, compared to his other efforts. Although not as powerful as United 93, which in my opinion is the definitive film on the 9/11 attacks, this is nonetheless a must see film with great performances, a good cast, good directing and a powerful true story. This is of course a hard film to watch, one that will stay with you long after you've seen it. I thought the film played well on the dramatic elements of this real life tragedy without overdoing it. Oliver Stone has struggled with making good films, but this one is one of his best efforts since The Doors and Natural Born Killers. The film is a human story, which in away sort of echoes Stone's Platoon, in the sense it shows the chaos for what it is. But the difference is, is that World Trade Center has a deeper sense of inspiration, a heart within the chaos unfolding on-screen. This ranks among Oliver Stone's best films.A truly unique film, this is a film that will stay with you from start to finish.
Very sad as it is true story about the collapse of the Twin Towers. It follows two policemen who are trapped in the basement of one of the towers. Stars Nicholas Cage. There was controversy when the movie came out stating it was too soon after 9/11.
Candy Rose
Super Reviewer
World Trade Center Quotes
There are no approved quotes yet for this movie.