World Traveler
(2002)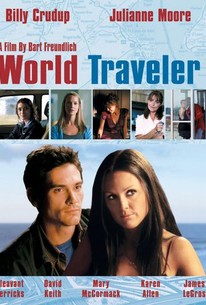 Movie Info
Following up on his acclaimed debut The Myth of Fingerprints, Bart Freundlich spins this drama that poses the question "what would it be like to run away from your life?" The film centers on a restless thirtysomething New Yorker named Cal (Billy Crudup) who one day drives off into the open road, leaving his wife and infant son behind. A series of flashbacks describe Cal's domestic malaise and disillusionment with his life. On the road, Cal encounters a number of unusual characters who are similarly tethered and drifting. One is named Dulcie (Julianne Moore), an emotionally fragile woman looking for her lost son. Through his interaction with Dulcie, Cal reflects on his own family and soon finds himself heading to his boyhood home where his father lives. This film was screened at the 2001 Toronto Film Festival.
Critic Reviews for World Traveler
Audience Reviews for World Traveler
A moving story about lost fathers and lost sons. Billy Crudup always picks his roles with care, often looking to play unique characters who are searching for something, are damaged somehow, and are in need of healing. Julianne Moore plays well the wandering mother, traveling to connect with her son at a train station somehere out there in space and time. Willie Nelson provides the bulk of a memorable soundtrack. A must-see for Crudup fans, and an interesting part for David Keith, whom I'd like to see back doing more films.
Lanning : )
Super Reviewer
World Traveler Quotes
There are no approved quotes yet for this movie.