The World's Fastest Indian
(2005)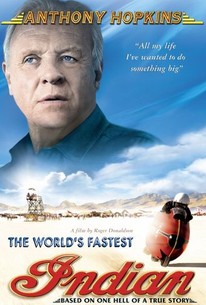 TOMATOMETER
AUDIENCE SCORE
Critic Consensus: Overcomes its formulaic storyline thanks to Anthony Hopkins' warm and endearing portrayal of an age-defying thrill seeker.
The World's Fastest Indian Photos
Movie Info
The true story of a man who never gave up on his dreams of doing something big -- and doing it very, very fast -- provides the basis for this engaging comedy drama. Burt Munro (Anthony Hopkins) was born in 1899 in Invercargill, New Zealand. From childhood, Munro had a passion for machines that moved fast, and when he was 21 he bought his first motorcycle, an Indian model with a 600 cc engine. Motorcycles became an obsession that stayed with Munro for the rest of his life, as he constantly tinkered with his beloved Indian machine, modifying the engine and frame, determined to see just how fast he could make it run. In 1967, Munro decided it was high time he proved to himself and the world just what he and his machine could do, and he booked passage for the United States, with the goal of breaking the world's land speed record at Utah's Bonneville Salt Flats. As Munro made his way across America to Utah, he discovered not everyone took his dream seriously, but some did, and he made a handful of friends along the way, including Ada (Diane Ladd), a widow who fell for Munro's rough charm, and Fernando (Paul Rodriguez), a car dealer who offered to help him. However, when he finally arrived at Bonneville, Munro was told his machine was unsafe to participate in the time trials, and -- far worse -- he was too old to ride. It took some intervention from a ranking American driver, Jim Moffett (Chris Lawford), before Munro was given his chance to ride the famous Salt Flats. The World's Fastest Indian was written and directed by Roger Donaldson, who early in his career made a documentary about the real Burt Munro, Offerings to the Gods of Speed. ~ Mark Deming, Rovi
News & Interviews for The World's Fastest Indian
Critic Reviews for The World's Fastest Indian
Audience Reviews for The World's Fastest Indian
½
took a look at this film with a slightly wary eye, the title being rather ambiguous and misleading initially. I nearly passed it by to watch one of the many screener DVD's I had to view. for possible inclusion in the BAFTA awards. I presumed it was about a runner or maybe an Indian astronaut, possibly. I had no idea initially the "Indian" referred to a great American motorcycle,rather than a particular type of human.I am so glad I wasn't thrown by the title, and started watching. There unfolded a most delightful story about Bert, an instantly rather charming eccentric old character (superbly played by Anthony Hopkins), who built an old 1920's motorcycle in his garden shed. He then attempts to break the world-land speed record on a machine designed to originally travel about 90mph. The plot develops into a most charming and beautiful story of Bert's determination to get to the race event and the journey is as much of the story as the event itself. Obviously I shall not divulge the result or the events that happen, suffice it to say that Bert becomes an instantly likable character by everyone he meets. Bert's charm shines through and he takes everyone he meets at face value and welcomes all with a smile and a shake of the hand. He meets various "characters" along the way who he befriends like long-lost friends,which is a fresh in these days of prejudice and alienation. This was a very innocent time in 1967 for a New Zealander going to America, and there is one of the films most delightful and charming moments when Bert realises all is not quite what it seems when he meets one certain character......... MAKE SURE YOU SEE THIS FILM, it will have you laughing, crying and will uplift you, which is quite uncommon in these days in the movies of blood, killing, violence and savagery. I would be very surprised if Anthony is not at least nominated for his starring role as Bert. Lovely film which needs a different title to me, but then again "it does what it says on the tin", as they say. Go and see it. Great
Cassandra Maples
Super Reviewer
The World's Fastest Indian is yet another well done feel good movie. The film tells the story of Burt Munro who seeked to break a land speed record on his 1920 Indian Scout. A film that focuses on one mans determination to accomplish his goal, The World's Fastest Indian is yet another terrific film from talented director Roger Donaldson (Thirteen Days), this is a film about Munro's trip to the Bonneville Salt Flats to break the record he so desired. Along the way, he befriends many people, and despite the fact that odds are against him, he persevere's and ultimately achieves his goal. Anthony Hopkins gives a great performance as Burt Munro. This is an incredible story of determination and perseverance. Over the course of late 60's till his death, he set many land speed records on his Indian Scout motorcycle. Roger Donaldson makes yet another terrific film, and with Anthony Hopkins on board, The World's Fastest Indian is a superb achievement. Hopkins delivers one of his best performances since he played Hannibal Lector in Silence Of The Lambs. The film is amusing, comical and sometimes sad, but it never feels like Burt Munro will fail. Despite a bit of misfortune, he manages to keep his head high, and succeed in setting his record. The World's Fastest Indian is a terrific film with a great story and acting. This is one of Roger Donaldson's finest films, and he always manages to make terrific films with an interesting story. This yet another great film with a story that will inspire the believers and dreamers ever. A very entertaining film with a great cast, make The World's Fastest Indian a film definitely worth watching. Another great film for Anthony Hopkins.
½
The world's fastest Indian is a bit dull for most of the film, but when it reaches it's great lines and high points it is brilliant. This film grabbed me from the start even by being very slow! I love The World's Fastest Indian, but throughout the film they could have had a bit more excitement to make it more fun. However, that wasn't the case, and I still love this film!
The World's Fastest Indian Quotes
| | |
| --- | --- |
| Burt Munro: | If you don't follow through on your dreams, you might as well be a vegetable. |
| | |
| --- | --- |
| Burt Munro: | At my age any day above ground and vertical is a good day. |
| | |
| --- | --- |
| Burt Munro: | You live more in five minutes on a bike like this going flat out than some people live in a lifetime. |