Would You Rather
(2013)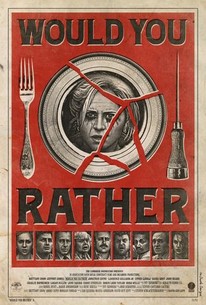 TOMATOMETER
AUDIENCE SCORE
Critic Consensus: Though restrained by most torture porn standards, Would You Rather's brilliant premise is ultimately harmed by its tendency towards blood and guts.
Movie Info
In the wake of her parent's death, Iris (Brittany Snow) struggles to make ends meet while caring for her terminally ill younger brother. Shepard Lambrick (Jeffrey Combs), a seemingly philanthropic aristocrat, expresses an interest in helping them. When he invites her to an exclusive dinner party, she accepts. Also attending the dinner party are seven more desperate individuals. They soon find themselves trapped in Lambrick's mansion and forced to play a sadistic game of Would You Rather, where the winner will be awarded untold amounts of money. As the game progresses, the dilemmas Iris and the other players face grow increasingly deadly. (c) IFC
Critic Reviews for Would You Rather
Audience Reviews for Would You Rather
½
It is almost funny how Jeffrey Combs, eternal cult star of trashy B movies, seems to be the only one having a lot of fun pretty much like his character, while everyone else - all other characters and also us viewers - are forced to partake in this pointless torture porn derivative of Saw.
Carlos Magalhães
Super Reviewer
½
Forget the mainstream critics reviews.This movie will mostly be enjoyable to horror fans. Not to bash the critics, but don't they read the movie description before watching, like: "She arrives to find herself ... forced to play a sadistic game of Would You Rather, where only the winner will get out alive." That line should either turn them off completely, or at least force them to review it from a fan's perspective. The movie has a great premise AND original story with fine acting to boot (rare in a B-movie). Budget limits are effectively managed so that you barely notice the low budget impact. In fact, because some of the more horrific scenes are not shown they are more cringe-worthy as your mind gets to fill in the details. But the standout is Jeffrey Combs of Reanimator/From Beyond fame that plays the host of the WORST DINNER PARTY GAME EVER! He balances his sociopathic morality with a genteel propriety that makes his character stand out from the disposable extras. The twist ending is predictable and you wish the more dastardly character deaths were more horrific, but overall it is a very entertaining horror flick. The late, excellent Roger Ebert, would hate this movie, but I would never use his review for a horror movie. The average soul just wants to be entertained, and this flick, if you can handle a razor blade near the eye, does just that.
Mark Beckford
Super Reviewer
Seems that I have seen this premise before, but this had a little bit of a twist to it. Other than that, not the most original of movies....
Cynthia S.
Super Reviewer
Would You Rather Quotes
| | |
| --- | --- |
| Amy: | In case none of y'all have figured this out, this game isn't about helping each other. It's about eliminating the rest of you. |
| | |
| --- | --- |
| Shepard Lambrick: | So, Cal, would you rather electricute yourself or would you rather electricute Amy? The blue button is for you. Press the red button if you want to zap Amy. You have fifteen seconds to decide beginning... now! |