The Wreck of the Mary Deare
(1959)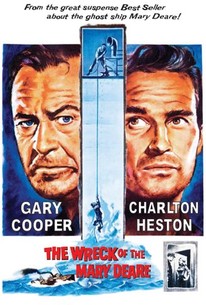 AUDIENCE SCORE
Critic Consensus: No consensus yet.
The Wreck of the Mary Deare Photos
Movie Info
Talented special effects and adventure director Michael Anderson (Around the World in 80 Days, 1956) keeps the suspense going in this drama about the wreck of the Mary Deare. John Sands (Charleton Heston) is the captain of a salvage ship that is almost rammed by the apparently abandoned Mary Deare. Sands boards the ship in search of plunder but as it is tossed on the high seas, he discovers a half-crazed captain aboard (Gary Cooper). The captain of the Mary Deare, Gideon Patch, tells Sands his story and in the end, the ship is scuttled and sinks. While Sands believes the story, the court does not believe it and Captain Patch is devastated. Determined to prove his innocence, the two captains dive down to the sunken Mary Deare to dredge up the evidence they need -- building up to a slam-bang climax.
Critic Reviews for The Wreck of the Mary Deare
All Critics (3) | Fresh (3) | Rotten (0)
A suspenseful mystery-at-sea yarn, superbly photographed and tightly edited, with seasoned performances by Gary Cooper and Charlton Heston as skippers enmeshed in a maritime scandal.
Offbeat, compelling adventure-mystery tale featuring Cooper and Heston.
February 17, 2008 | Rating: 3/5
Audience Reviews for The Wreck of the Mary Deare
Big stars and good production values but very dull.
This has all the makings of an Alfred Hitchcock Thriller, and I am told that he almost directed it. Charlton Heston and Gary Cooper combine there talents to make a truly unheard of 5 star film. My biggest surprise was that only 42 other people have review / seen this movie on Flixster. No matter what part of this Universe you are from this is a must see movie. Charlton Heston plays the part of a salvage captain. He finds the Mary Deare afloat on the open seas, right from the start when he boards her the action begins. On board he finds Gary Cooper the only man left on board the sinking vessel, which they save by beaching her on the shoals. Onboard is a mystery cargo, as Cooper believes he was left onboard to go down with the ship for insurance purposes. Though when have a somewhat young Heston, in one scene Cooper was a little old to be floundering around in the water. But this is one of the unheard of greats of old school films. Rent, Buy, Beg, But not steal a copy and sit down on a nice night, unhook the phone and enjoy. 5 stars.
Bruce Bruce
Super Reviewer
The Wreck of the Mary Deare Quotes
There are no approved quotes yet for this movie.