Wrecked
(2011)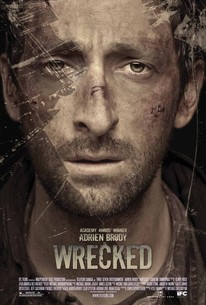 Movie Info
Adrien Brody stars as a man who awakens in a mangled car-wreck at the bottom of a steep cliff. Injured and trapped inside, with no memory of how he got there or who he is, he must rely on his most primal instincts to survive. But as he attempts to free himself from the carnage and escape an impossible situation, a darker side is revealed. Even if he manages to survive, the man may have to face the horrible consequences of an earlier, forgotten life. -- (C) IFC
News & Interviews for Wrecked
Critic Reviews for Wrecked
Audience Reviews for Wrecked
½
Adrien Brody awakens battered and bloody, trapped in a car wreck on an isolated mountainside with no memory of who he is or how he got there. In a similar vein to 127 Hours and Buried, Wrecked is very much a one man show as Brody is essentially alone for the vast majority of the film. Being a fan of his though, I don't have a problem with this idea but the initially intriguing crime thriller premise hinting at a shady past and potential vengeance-based drama never materialises. Instead we have Adrien Brody stuck in a car for half an hour, followed by Adrien Brody crawling through some woods for a further hour, and that's pretty much it. More a wilderness survival drama than crime thriller, Wrecked is well acted and nicely shot in some attractive locations but the pay off at the end when you discover what happened is just not strong enough to make for a satisfying experience. There's not a lot wrong with it; it's just a little too insubstantial.
It`s well-crafted and mind-bending at times but dose not really satisfy or intrigue as it should. Theres no real bare bones to the piece and looks to be more man vs. nature than vs. self. Brody does give a good performance with what he has, not one of hise best performances but not his worst either.
3 3/4's stars actually...Apparently not for everyone. This film, to me, is a classic example of a good story with outstanding acting that makes for a good viewing experience. No need for expensive special effects when the delivery is so well done. Adrien Brody has become a favorite actor of mine, and this film is a very good example why...he is wonderful. This is a movie with a simple story, and enough ambiguity, to keep you watching all the way to the end. The fact that you don't know how it will end, till it ends, makes it worth while...
Cynthia S.
Super Reviewer
Wrecked Quotes
There are no approved quotes yet for this movie.