Wrinkles
(2014)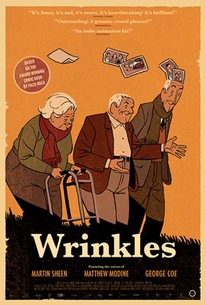 TOMATOMETER
AUDIENCE SCORE
Critic Consensus: Poignant and tender without succumbing to schmaltz, Wrinkles offers a thoughtful -- and beautifully animated -- look at old age.
Movie Info
Martin Sheen (The West Wing, The Departed), Matthew Modine (The Dark Knight Rises, Weeds), and George Coe (Funny People, Archer) lead a cast of eccentric characters who rebel against authority in this wonderfully animated and poignant comedy for adults. The story opens with former bank manager Emilio being dispatched to a retirement home by his family. His new roommate is a wily wheeler-dealer named Miguel, who cheerfully swindles small amounts of cash from the more befuddled residents but is also full of handy insider tips that are crucial to survival. Like One Flew Over the Cuckoo's Nest in an old folks home, we are introduced to daily pill regimens, electric gates, and nighttime joyrides, as the reality of Emilio's future life begins to sink in. Using hand-drawn animation, Wrinkles moves freely between the inmates' daily routines and their more colorful, dementia-induced fantasies, leaving plenty of room for both tears and laughter as it pokes pointed fun at society's attitude towards the elderly. (c) Gkids
News & Interviews for Wrinkles
Critic Reviews for Wrinkles
Audience Reviews for Wrinkles
½
2500th review on this site. If it hasn't been 10 years, it's gonna be at some point this summer. Weird that I've stuck for so long with this site, when I could've started a blog at some point, and I was part of one for a while, but I've always enjoyed doing these reviews. I find it to be fun, even though I know next to nobody reads these reviews. Deep down, really, I do them for myself. If someone enjoys them or decides to watch a movie based on my review, which is highly unlikely, then that's really secondary to me, though I admit that it's cool as shit. With that said, kinda glad this ended up being the movie I watched. I started watching Attack of the Herbals, it's on Amazon Prime, and it was a Scottish horror film, which looked really low-budget, without captions, so I knew I wouldn't be able to understand jack shit, so I ended up picking this movie. The story is about the friendship that develops between Emilio and Miguel, as Emilio is starting to show symptoms of Alzheimer's disease. It's a beautiful story, but also a heartbreaking one all at the same time. Not necessarily because of Emilio's fate, though that is a huge part of it, just because of the fact of the fate that befalls many of the characters once they reach an age where they cannot simply take care of themselves any longer. Or in some cases, like Antonia, where they're dumped off at the retirement home by their children who simply can't, or won't, take care of them. In some cases, like Miguel, who's voluntarily staying there at least, there are people who can still take care of themselves. They're of sound mind and body, so it's a heartbreaking film. Particularly when, at least most of us, will find ourselves at that age. Not necessarily stuck in retirement homes, but just a point where we won't be able to do the things we used to, won't recall certain memories, etc. The movie isn't completely negative on old age, of course, as Miguel is the spark and life of the movie, he's trying to keep things as positive as possible, despite using some questionable tactics. There's also this really sweet and touching flashback with Modesto and Dolores that, again, shows how dedicated Dolores is to Modesto with his advanced Alzheimer's and how she stuck with him even at his worst moments. The film is really thoughtful, it goes to some interesting places but, thankfully, with the heartbreaking nature of the film, it never gives in to sentimentality or melodrama. It very easily could've done so, but they had enough respect for the characters and its story to not do so. The animation is beautiful, it's got a very European feel, but it's realistic when compared to someone like, say, Sylvain Chomet's works, which are still gorgeously animated, but the characters' looks are over-the-top. This one still has a lot of the small details, but it might not be picked up on because the animation, while important, isn't the most important aspect of this film. It's the characters and the story. And those are the strongest parts of the film. I don't know why this film was never great, to me at least, but I thought it was a really damn good movie regardless. One that I would highly recommend it. Got some beautiful storytelling that deserves to be seen.
Jesse Ortega
Super Reviewer
Wrinkles Quotes
There are no approved quotes yet for this movie.