Wristcutters: A Love Story
(2007)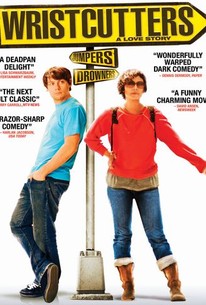 TOMATOMETER
AUDIENCE SCORE
Critic Consensus: Wristcutters: A Love Story sounds like a normal enough indie flick. Boy meets girl. Boy gets separated from girl. Boy goes on a road trip with friends to find girl and gains a new perspective on life. Except everybody's dead.
Wristcutters: A Love Story Photos
Movie Info
Suicide is not the end, but only the beginning of a fascinating journey through the afterlife for souls in search of what they could not find in their previous lives.
News & Interviews for Wristcutters: A Love Story
Critic Reviews for Wristcutters: A Love Story
Audience Reviews for Wristcutters: A Love Story
Nazdrovyeh! A triumphant love story to limbo and back again. The world to where suicides are relegated is almost Sartre-esque: mundane activities and conversations, day in, day out. "Hell is other people." However, people can still make friends here, and there are miraculous oases to be found. The bond between Zia and Eugene is rather sweet and bro-tastic. There is no way Patrick Fugit can look not adorable. Raven-haired Shannyn Sossamon is probably the only woman in the world who can make chewing gum with her mouth open look so good. I also dig how the filmmakers cast Sossamon and Leslie Bibb as the present and past love interests because they look so much alike with their angular jaws and thin lips.
Alice Shen
Super Reviewer
"You don't know what you have until you lose it." A film set in a strange afterlife way station that has been reserved for people who have committed suicide.
REVIEW
Croatian director Goran Dukic brilliantly writes and directs 'Wristcutters: A Love Story'. Based on Etgar Keret's short story, Dukic derives an original idea about life after suicide. Though many fear that the love story runs the risk of glamourizing suicide, I feel this is an unfair misinterpretation. If anything, it is the contrary which is clearly implied in the end. Dukic successfully shows that suicide is never a solution to anything. Using subtlety as a tool, he creates a specific atmosphere for the land of the dead. The washed out colour, miserable setting and unhappy characters stress on the isolation and misery of the characters. At the same time the dry humour provides some very welcoming comic relief. The music is also carefully selected. Most of the songs were sung by bands who were associated with suicide. The cinematography too works on a subtle level, using different angles, range and perspective. Patrick Fugit and Shannyn Sossaman do a fine job but I enjoyed Shea Whigham's Eugene the most. He's funny and at the same time one can sense his despair and sadness. Mikal Lazarev too does a wonderful job and in her non-speaking part, Tom Waits is impressive. Familiar faces like Leslie Bibb and Will Arnett also make appearances. Overall Dukic has created an original film, one that is poignant and wonderful and sensibly tackles a relevant issue.
Lorenzo von Matterhorn
Super Reviewer
A quirky and original love story about second chances surviving in the land of the suicidal. Oddly enough this dark comedy is quite cheerful.
Shawn Ewing
Super Reviewer
Wristcutters: A Love Story Quotes
| | |
| --- | --- |
| Mikal: | Are you joking? Do you guys like it here? Who the hell likes being stuck in a place where you can't even smile? It's hot as balls, everybody's an asshole. I just wanna go home. |
| | |
| --- | --- |
| Zia: | I think she cried at my funeral, I don't mean to brag about it or anything, but I'm pretty sure she did. Sometimes I can picture her talking to some guy she feels really close to, about how they lowered me into the grave all pathetic and shriveled up like a melted chocolate bar, and how we never actually got a chance. Then the guy fucks her real nice, fuck it's all about making her feel better. |
| | |
| --- | --- |
| Zia: | They went to the North Pole or whatever the place Nanuk is from is called. He wanted to meet her family and get into that throat singing, saw playing, weird instruments, and all that stuff. It's good that he's back into music, I think. And me? I think I finally understand what Kneller was trying to say.It only happens if it doesn't matter. It comes without effort. Maybe Eugene's right. Maybe I only get stuck on girls I don't have a chance of being with. I am glad for Mikal, though. I hope she got her visa all straightened out. I mean, she did say she'd be right back. Then again, Eugene's old wisdom is when a girl says that, she never does actually come back. |
| | |
| --- | --- |
| Zia: | You remember the other day when you were talking about missing things from life and how you wanted to go back and I told you I didn't miss anything? |
| Mikal: | Yeah. |
| Zia: | Well... When I'm here, with you, I kind of miss myself, the way I used to be. |
| Mikal: | What were you like? |
| Zia: | I was happy at a time, obviously before I came here, but... |
| Zia: | Something about being here with you reminds me of that, it's just, I don't know, it's just weird to me that you can feel that in a place like this. We're all... We're all dead. |