Written on the Wind
(1957)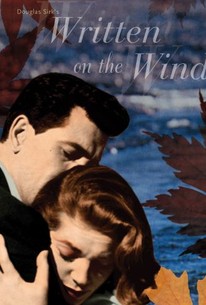 Written on the Wind Photos
Movie Info
Written on the Wind is an excellent melodrama about a Texas oil family who drive themselves to ruin through lust and greed. Robert Stack plays a playboy heir to the oil dynasty who falls in love with Lauren Bacall, a beautiful gold-digger. Rock Hudson falls in love with Stack's nymphomaniac sister Dorothy Malone. The two relationships wreak havoc on the oil dynasty, resulting in a highly entertaining soap-opera kind of a movie.
Critic Reviews for Written on the Wind
Audience Reviews for Written on the Wind
Precisely the type of hell men think of should the phrase "chick flick" be raised, while simultaneously the nirvana woman love to deny loving. A Texas oil family anguishs over the discovery that money (cue the symphony orchestra) can't buy me love. Bacall alone refuses to submit to this pleased-with-itself debauchery that meekly pretends to disdain wealth.
Kevin M. Williams
Super Reviewer
An advertising secretary (Lauren Bacall) gets swept up in a love triangle amonst two friends, one a millionaire playboy (Robert Stack) and the other is an employee of the millionaire father's company (Rock Hudson). It is apparent the millionaire playboy is something of a drinker but it's his very vulnerability that lures the secretary away to fall in love with him. Soon, the two are married and it's the friend who's stuck carrying the torch for her. Meanwhile, he's being pursued by the millionaire's sister, who happens to be the town floozy (and someone he wants nothing to do with). It's the stuff of soap operas and melodramas, but this fifties movie with it's fifties sensibilities has a lot of charm to it. The sister, Dorothy Malone, won an oscar for her over-the-top she-vixen role, and Robert Stack was nominated for his portrayal as well. The story moves briskly albeit predictably.
Devon Bott
Super Reviewer
Written on the wind This is one of the true Classic's. It was recommended by my true friend raimoyna, as always she picks the best in Classic Films. This one here stars the True Rock, Rock Hudson that is along with Lauren Bacall, Dorothy Malone, and Robert Stack. Robert Stack plays the part of a Rich Oil Tycoon's son, who runs around doing what ever he wants when he wants, and Rock Hudson his best friend is always cleaning up the mess. Lucy ( Lauren Bacal) appears and Rock falls instantly in love with her, Well Robert Stack see's this and stars stalking Lauren, until he maries her. All along Rock is sill in Love with her. Mean while Dorothy Malone, plays Robert Stacks Nympho Sister and wants the Rock, but Rock will have no part of it. This movie is part of the Criterion Collection. All in All its worth 4 stars.
Bruce Bruce
Super Reviewer
Written on the Wind Quotes
There are no approved quotes yet for this movie.