The Wrong Guy
(1997)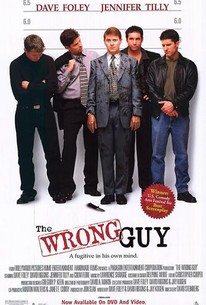 AUDIENCE SCORE
Critic Consensus: No consensus yet.
Movie Info
TV director David Steinberg (Mad About You, Seinfeld) helmed this Canadian comedy satirizing The Fugitive and similar actioners. Cleveland corporate climber Nelson Hibbert (Dave Foley) is confident his promotion to company prez is just around the corner, but when it doesn't happen, he goes postal during a meeting, aiming threats at the boss who passed him over. Later, he barges into the boss' office, finds him dead, and runs from the office holding the bloody weapon. Since this was witnessed by his co-workers, he thinks they have accused him as the killer. Unaware surveillance cameras revealed the real killer, Hibbert hightails it for Mexico, certain that he's a most-wanted fugitive. Made in Toronto in 1996, this film expands on a sketch Foley scripted for Kids in the Hall.
Critic Reviews for The Wrong Guy
There are no critic reviews yet for The Wrong Guy. Keep checking Rotten Tomatoes for updates!
Audience Reviews for The Wrong Guy
I am a huge "Kids In The Hall" fan as well as a HUGE "Newsradio" fan. This lends itself to being a big Dave Foley fan. This movie was just not great. It had some laughs...it had some good laughs, but truly it was more of a "Kids In The Hall" sketch stretched out for a full hour and a half. I love the sketches as much as anyone, but there is a reason they are short and sweet...they work that way. This should have been the same. Dave Foley is wonderful (and there are a few "Kids" cameos as well as some belly laughs) and Jennifer Tilly is a sexy beast, but... If you want a few good laughs when the queue is empty, check this out, but no need to go out of your way.
The Wrong Guy Quotes
There are no approved quotes yet for this movie.