Wrong Turn 2: Dead End
(2007)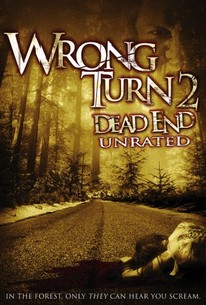 Wrong Turn 2: Dead End Photos
Movie Info
The malformed mayhem continues as a group of reality game show contestants descend into the West Virginia wilderness in order to participate in an apocalypse-themed game show, only to be brutally killed off by a deranged clan of redneck cannibals. Dale Murphy (Henry Rollins) is a former special forces soldier who now hosts a reality game show in which contestants must struggle to survive in the wilderness with few resources and only their wits to guide them. After the members of the group are split up into partners, they are sent into the woods to locate supplies that have been strategically hidden by the show's producers. Should they fail to achieve this and various other tasks, they will be sent back to civilization in shame while the others vie for substantial cash prize. But the cameras aren't the only things watching as the competition heats up, because within these woods dwells a terrifying secret. Later, as the day goes on and the body count begins to multiply, both the contestants and the hard-nosed host must fight to avoid becoming the catch of the day for a family of hungry backwoods cannibals. ~ Jason Buchanan, Rovi
Critic Reviews for Wrong Turn 2: Dead End
Audience Reviews for Wrong Turn 2: Dead End
Just as good as the first pretty much, if maybe not quite as tense or shocking. Very gory and violent, just like the first and similar to the hills have eyes. If you can handle the gore and are a horror fan you'll enjoy this.
Not as good as the first movie, which I think is one of the best survival-horrors of the new millenium. This one has more of a humorous tone which lessens the fear factor considerably, and the loss of any mounted suspense is also a disappointment. But this film is still enjoyable as it has some wicked gore scenes and Henry Rollins was great - he should have been the focus of the movie instead of the fame and fortune seeking youngsters who only gave justification for their deaths rather than have you feel sorry for them. It's a must-see for gore-hounds, but overall it was pretty routine.
Much better than the first film, I can see why they thought this was a good direction. A few bad actors and predictable ending ruins it. Great landscape and cinematography once again.
Sophie Burgess
Super Reviewer
Wrong Turn 2: Dead End Quotes
There are no approved quotes yet for this movie.