Wuthering Heights
(1992)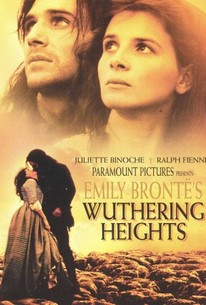 Movie Info
The 1992 adaptation of "Emily Bronte's Wuthering Heights" is a lavishly produced rendition of the timeless love story, featuring Juliette Binoche as Cathy and Ralph Fiennes as Heathcliff. The story is narrated by an uncredited Sinead O'Connor, from Bronte's point of view.
Critic Reviews for Wuthering Heights
Audience Reviews for Wuthering Heights
½
I tried reading the book about 3 different times and I was so excited when I saw this was on tv. I came in right where I left of with the book so that is was good/bad. I love Ralph Fiennes and that is why I wanted to see this specific adaption of the book. Juliet Binoche is fantastic as well and the sence where she dies made me cry and I dont cry at many movies. Now all in all im not sure if the movie its self was that great but the performanced by the two leads is enough to see it. And know I finally know what happens at the end! :)
Morgan Salem
Super Reviewer
Wuthering Heights is a beautiful story about Heathcliff who falls for his foster sister Cathy. They have a strange love for each other that tears them apart.
Candy Rose
Super Reviewer
½
This is an enjoyable, though not great, adaptation of Emily Brontë's classic novel of the same name. It is a beautiful looking, well made, well cast and acted film - but I could definitely find some faults in the script, which largely oversimplifies Brontë's incredibly complex narrative, which isn't helped by its being crammed into 105mn. While the novel isn't overly long, and it is possible to tell the story in this amount of time (all the other film adaptations of Wuthering Heights seem to run about the same length) - this script definitely does hack away at the novel a little bit. The film also is guilty of oversimplifying the love story between Heathcliff and Catherine Earnshaw; although it is undoubtedly one of the the greatest romances ever told in British literature, it is also supposed to be one of the most tumultuous, and marked by a very rocky relationship between the two characters, who are both considerably flawed. However, the film does succeed because even though I recognized these shortcomings immediately, I was able to overlook them and allow myself to get wrapped up in the wonderful story once again. This is also helped by the great work of Ralph Fiennes and Juliette Binoche, who are perfectly cast and both deliver memorable performances (although, given the material, I think it would be hard not to shine in either role). I haven't seen any of the other adaptations of this novel yet, but this one I enjoyed, and would definitely recommend to fans of the novel.
Christopher Mercer
Super Reviewer
Wuthering Heights Quotes
| | |
| --- | --- |
| Mrs Linton: | You left me, too, but I forgive you. Forgive me. |
| Heathcliff: | It's so hard... to forgive alone, it's a lie. Yes, I forgive what you've done to me. I love my murderer. But yours... how can I? |
| | |
| --- | --- |
| Catherine Earnshaw: | My love for Linton is like the foliage in the woods: time will change it, I'm well aware, as winter changes the trees. My love for Heathcliff is the eternal rock beneath: a source of little visible delight, but necessary. Nelly, I AM Heathcliff! |
| | |
| --- | --- |
| Heathcliff: | Why did you betray your own heart, Cathy? You loved me. And what right had you to leave me? The poor fancy you felt for Linton? Nothing that God or Satan could inflict would have parted us. You of your own will did it. I've not broken your heart Cathy, you have broken it. And in breaking it, you've broken mine. |