X-Men: First Class
(2011)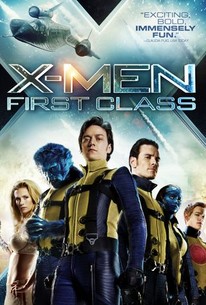 TOMATOMETER
AUDIENCE SCORE
Critic Consensus: With a strong script, stylish direction, and powerful performances from its well-rounded cast, X-Men: First Class is a welcome return to form for the franchise.
X-Men: First Class Videos
X-Men: First Class Photos
Movie Info
X-Men: First Class unveils the epic beginning of the X-Men saga - and a secret history of the Cold War and our world at the brink of nuclear Armageddon. As the first class discovers, harnesses, and comes to terms with their formidable powers, alliances are formed that will shape the eternal war between the heroes and villains of the X-Men universe. -- (C) Fox
News & Interviews for X-Men: First Class
Critic Reviews for X-Men: First Class
Audience Reviews for X-Men: First Class
½
The greatest achievement of this film is how it makes us care so much about its characters even though we know beforehand that they are not going to die - the big curse of prequels -, while balancing a lot of action and an intelligent social commentary with absolute perfection.
Carlos Magalhães
Super Reviewer
½
Just when people were beginning to lose faith prequels, along comes "X-Men: First Class." In one of the best prequels ever made (not just by comic book standards), we follow Professor Charles Xavier at the peak of his knowledge, while Eric is a troubled man who only wants to hunt down the man who killed his mother. Realizing there are many more people like them out there, they decide to form a team of young recruits, whom will eventually help them form a team to face the evil their most fear, while also having to deal with the humans thinking of these mutants as threats. Sebastian Shaw (Kevin Bacon) is the central antagonist of this story, and while all he wants is to harness his powers and find as many mutants to follow him as possible, his past comes back to haunt him in Eric. James McAvoy and Michael Fassbender share amazing on-screen chemistry. I truly believe that this is some of the best bonding/friendship I have seen in a very, very long time, especially for comic book films. They grow as personalities throughout this film, bringing a whole other layer to the characters of Professor X and Magneto. Twentieth Century Fox has never been known for their streak of great films, but rather a very bumpy balance between good and bad. Of the last decade or so, I definitely think "X-Men: First Class" shows that they will always eventually have something up their sleeves, even if they do not know it yet. After travesties such as "X-Men: The Last Stand" or "X-Men Origins: Wolverine," they really had to up their game in terms of reviving this franchise, and they did so with flying colors. Matthew Vaughn at the helm as director was just the icing on the cake here. He takes care in his projects. Focusing on slow scenes to further develop the characters we already know, placing side characters in the forefront, and showcasing everyone equally, leaving out fan favorites, instead of adding in moments to a film that did not need any further assistance. With a terrific screenplay, tasteful direction, and cast that elevates this film even more, "X-Men: First Class" is easily one of the best films in the franchise, and some may even argue that it is the best. What this film is at it's core, is a loose prequel to the stories we know, which also acts as a springboard for stories that can be told between the two timelines. This is a very smart film and I can not wait to see where the filmmakers take it from here. The future looks pretty bright for this franchise if this pace can be kept up. This film is definitely substance over style, and for a superhero film, that is all that can be asked. "X-Men: First Class" is wonderful entertainment.
Brings credibility back to the X-Men franchise thanks mainly to Michael Fassbender's excellent portrayal of a young Magneto. James McAvoy does a good job too as Xavier, but he and everyone else surrenders the screen as soon as Michael Fassbender steps in. The chemistry and bond between the two characters drives the movie and although the story is going places already shown in later films of the series, it's still nice to see it all happen and done in a manner that it's still exciting and suspenseful. This is the best installment since X-2. Sometimes taking a step back really is the way to move forward.
Josh Lewis
Super Reviewer
X-Men: First Class Quotes
| | |
| --- | --- |
| Charles Xavier/Professor X: | You're not alone. |
| | |
| --- | --- |
| Raven Darkholme/Mystique: | Mutant and proud. |
| | |
| --- | --- |
| Logan/Wolverine: | Go fuck yourself. |
| | |
| --- | --- |
| Erik Lehnsherr / Magneto: | Let's just say I'm Frankenstein's monster... and I'm looking for my creator |