X: The Unknown
(1956)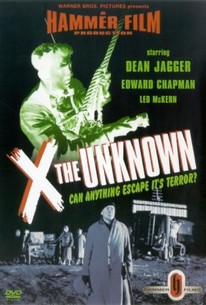 Movie Info
X the Unknown is a well-crafted imitation of the Quatermass British sci-fi pictures of the 1950s. A group of soldiers on maneuvers in Scotland stumble across a gravel pit which emanates an unusual amount of radiation. Several deaths occur before the radioactive material is mysteriously stolen. Researcher Dr. Adam Royston (Dean Jagger) speculates that the thief is some sort of inhuman monstrosity dwelling at the Earth's core. He points out that past radioactive disturbances have been occurring at 50-year intervals, each followed by sudden deaths and the disappearance of the material. Royston suggests that the unknown monster has been resuscitated by humankind's recent atomic experiments. Sure enough, the monster manifests itself as a huge slab of glowing radioactive mud (laugh now if you must -- you won't laugh when you see it). X the Unknown works well within its limited budget; unfortunately, many TV prints have been truncated, robbing some of the best horrific moments of their full impact. ~ Hal Erickson, Rovi
Critic Reviews for X: The Unknown
Audience Reviews for X: The Unknown
How many creatures features out Scotland way? Not veddy many. Making this all the more special as Dean Jagger plays an eccentric American nuclear scientist who with local Leo McKern (one of the silly bad guys from the Beatles "Help!") combat a primordial sentient from beneath the earth. You might predict it'd be a laugh riot (until yer PS3 warmed up) but in truth it's alright stuff as a bowl of salsa escapes and threatens us all with radioactive hot stuff. It's better than you think.
Kevin M. Williams
Super Reviewer
Before "The Blob" there was X-The Unknown, a creepy, scary film by Hammer, the makers of the Quatermass series. Radioactive mud rises to the surface to terrorize soldiers and residents of a scottish village. As it is radioactive several victims succomb to burns and worse while it is on the prowl for radiation that makes it grow even larger. While the special effects are dated it can still send a chill through you with the melting scenes and the longest scream I ever heard in a sci-fi film. Decent script and excellent acting by american actor Dean Jagger and british actors Leo Mckern and Edward Chapman help to make this film well worth the rental. 3 Stars 1-16-13
Bruce Bruce
Super Reviewer
½
This not entirely satisfying Hammer film is pretty much solidifies the reason as to why you didn't see them making too many sci-fi movies. Dean Jagger plays an American scientist in Scotland, who with the army at his disposal must stop the radioactive version of The Blob. The story is nothing innovative or even particularly exciting but even Hammer's lesser efforts have some great murders, an awesome-looking monster and a great finale. And if you're lucky, some spectacular photography. Fortunately, X the Unknown has all of these things. It's just too bad there are those story parts inbetween.
Michael Gildea
Super Reviewer
X: The Unknown Quotes
There are no approved quotes yet for this movie.