Xtro II
(1991)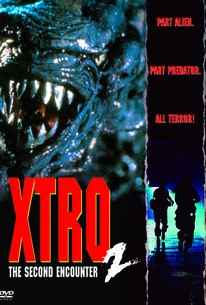 AUDIENCE SCORE
Critic Consensus: No consensus yet.
Movie Info
When an experiment to send three volunteers to another dimension fails, only one comatose survivor is brought back. However, when the scientists discover that the volunteer carried a deadly creature back with her, they must struggle to destroy the creature before it destroys them.
Critic Reviews for Xtro II
Audience Reviews for Xtro II
Sequel to Xtro is a stupid, painful film that doesn't continue to story of the first film. I really don't see why the filmmakers bothered at making a sequel, as this one just fails to have anything worth seeing. This sequel is filled with a bad cast, a poor plot and poor direction. I really hated the film, and it didn't offer anything to the viewer. The original Xtro was nothing great and quite frankly didn't really stand out in the genre. Not to mention it absolutely unnecessary of being followed up by a sequel, which didn't add anything new to the first film. I really didn't enjoy the film, and I felt it was a painful film to watch that looked cheap and was made to make a quick buck. This is an awful piece of trash that just doesn't work to entertain the viewer. Instead the viewer feel strained, and that's how I felt watching this film as the film tried to introduce a concept was too ambitious, and failed with its ideas due to a poorly written script that lacked in terms of good story. The first entry at least had some effective effects to keep you interested, but this one simply is a mess of a film that simply doesn't pull off anything remarkable. This is a totally unrelated film to the original, and I really don't know why the film bears the Xtro name. This is simply put low budget trash that relies on poor acting, poorly developed ideas and unfocused directing to try an appeal to fans of the original. The first Xtro was decent at best with plenty of imperfections, at least it was entertaining. However this one fails and should be avoided.
Xtro II Quotes
There are no approved quotes yet for this movie.