xXx: State of the Union
(2005)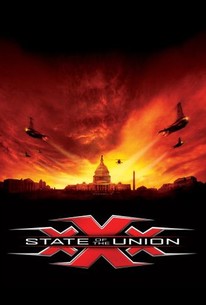 TOMATOMETER
AUDIENCE SCORE
Critic Consensus: Even more absurd and implausible than the first XXX movie, State of the Union is less inspired and technically competent than its predecessor.
xXx: State of the Union Photos
Movie Info
A new renegade fighter rises to defend the United States from an internal threat in this action thriller. Augustus Gibbons (Samuel L. Jackson) of the National Security Agency has successfully dealt with a number of threats to America's safety, but he faces a whole new challenge when he discovers a potent terrorist cell that has ties to the upper levels of the American military. Gibbons learns that George Deckert (Willem Dafoe), the secretary of defense, has been training a secret military faction to stage a coup against the United States by kidnapping and assassinating the president of the United States (Peter Strauss). Convinced there's no one he can trust within his circle of operatives, Gibbons turns to Darius Stone (Ice Cube), currently serving time in a maximum security penitentiary. Stone once served with Gibbons in the Army, and also took part in a mutiny against Deckert; despite his reckless side, Gibbons is certain Stone's fearless nature and peerless fighting skills make him the one man who can take on Deckert and his troops. XXX: State of the Union is the sequel to the 2002 hit XXX, though neither star Vin Diesel nor his character, Xander Cage, appear in this picture. ~ Mark Deming, Rovi
News & Interviews for xXx: State of the Union
Critic Reviews for xXx: State of the Union
Audience Reviews for xXx: State of the Union
An entertaining movie that doesnt have a lot going on but you can appreciate the action sequences not as good as the first but entertaining enough!
Film Crazy
Super Reviewer
Not a bad film really, just run of the mill action flick that wouldn't look outta place from the 80's. A nice opening sequence that looks pretty smart and hi-tech, usual stuff packs the middle and it finishes on a VERY poor cgi looking finale. A black man's 'James Bond' basically, but 'XXX/Bond' is a little chubby and porky in this sequel hehe not sure casting was correct with Ice Cube or whatever he calls himself.
Phil Hubbs
Super Reviewer
Hmmm...Who should be the next xXx, a secret agent devoting his life to loyalty and honor with more skills than a Navy SEAL, Spetsnaz soldier, and KSK soldier combined. Oh I know! Let's get a gangster we found of the streets with no loyalty, no self control and no acting ability! Our enemies are screwed now! So, what is the best thing about the movie? It's xXx. As bad as it is, it's still xXx. That means I can handle watching it...For about 20 min.(The movie is an hour forty minutes) As for the bad, there is a lot of it. Ice Cube makes Shaq look like a good actor. I'll admit he's a good rapper but just because you can make a few decent songs doesn't mean you can act worth crap. He has pretty much no personality, apart from the occasional explosion. But they couldn;t just take one crappy actor/rapper! No they had to take another one, in the form of Xzibit. Contrary to Ice Cube being a great rapper and a bad actor Xzibit happens to be a bad actor AND a bad rapper! 2 for the price of 1! The whole premise of the movie is down right uncreative and ridiculous. The villain has murdered more people than our last war, but he NEVER get's caught for it? And why didn't Willem Defoe just kill Gibbons?! Then nothing would have stood in his way! And why is Ice Cube put under so little securaty. Do they REALIZE this is xXx? But the worst part about it? They KILLED of the first xXx! You;re telling me Ice Cube has a better chance of surviving a maniacal dictator than Vin Diesel. No. Just No. Ice Cube needs to learn to leave acting to actors. Not rappers, not athletes, actors.
Marc Lewis
Super Reviewer
xXx: State of the Union Quotes
| | |
| --- | --- |
| XXX/Darius Stone: | God bless America. |
| | |
| --- | --- |
| Augustus Gibbons: | I told you we should've killed that bitch. |