Y Tu Mama Tambien
(2001)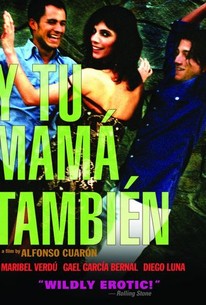 Movie Info
Alfonso Cuarón directed and co-wrote this sexy art-house hit from Mexico. The funny and moving coming-of-age story centers on two immature teens who get an education in love when they take a sexy road trip with a liberated, unhappily married woman (Maribel Verdu).
Critic Reviews for Y Tu Mama Tambien
Audience Reviews for Y Tu Mama Tambien
Pairing together hedonistic teenagers with the problems and poverty in Mexico, "Y Tu Mama Tambien" tells a story of vices. Most of the film features sex, drug use, and perversion in general. It centers on three people (Verdu, Bernal, and Luna) going on a road trip across Mexico while flirting with one another, engaging in intercourse, and viewing the world in their own selfish terms. A voiceover weaves throughout the film to give perspective to the setting of the film, which often includes poverty, crime, and gore. Most have argued that this parallel is stark, that showing the real world implications of the cultural landscape shows that our protagonists are that much more selfish, hateful, and spoiled. That message often gets lost in the sexual contrivances of the three lead characters. The ending pulls back from the fieriness of the action and gives needed perspective, which is what ultimately makes this film meaningful. The ending shows the buffoonery of the men, how free Luisa (Verdu) wants to feel but can't, and that the entire film is building to something wonderfully introspective. This film doesn't always show how Mexican poverty is generally denied by the upper class, but it does show the contrast between what matters in life and how we often ignore what's right in front of us.
Spencer S.
Super Reviewer
I heard many great things about this, but, having finally seen it, I can say that yes, while it is a good movie, it's overrated. What we have here is a film set in 1999 amid the context of a changing political tide in Mexico. The film follows two close high school friends, both of whom are privileged and fairly well off. After their girlfriends set off on a trip to Europe, these two boys, bored of partying, convince a somewhat older lay to join them on a road trip across rural Mexico to a supposedly legendary beach. As far as the basic plot goes, that's pretty much it. Basic sex-fueled coming of age story about "that one summer where everything changed". Peppered throughout is some narration that provides additional political/social context, as well are more background info on various characters and events. While I do agree that the film is a slightly better made crude teen sex romp, it isn't a complete masterpiece either. It's artsy, meandering, pretentious, and yeah, it gets away with a more graphic depiction of sexuality/nudity than many similar films, but that doesn't mean it isn't also crude and in the same vein as something like American Pie, even if this has subtitles. Listen, I enjoyed this film, but I wouldn't completely disagree with you if you tore it apart. Just because it's subtitled and shot well doesn't mean it's not untouchable. Fortunately the film is largely justifiable in its realistic and daring depiction of sex and nudity, and it is a good film, but still, not everything masquerading as artsy really is. For some reason I felt the need to bring all this up. Not sure it needed being said, but it was on my mind, so there. The three central performances are all cast and executed supremely well, and I applaud the actors for their willingness to bare it all, especially since it does have a point, and didn't make me feel uncomfortable in an off putting way (like Kids did...even though, yeah, that too has its merits...it's just harder to defend). The film is well shot, the soundtrack has some choice cuts on it (especially the Zappa), and the film managed to give all the steamy content a point, even if it is arguable. Hey, at least it gets people talking. I mean, isn't that one of the points of cinema anyway? You should see this. As far as coming of age stuff goes, it gets points for being less restrained with the content, even if the broad strokes are nothing all that new. Just be warned, the film has been over hyped, and the content isn't for everybody, but if you can get over it, you'll probably find something to enjoy.
Chris Weber
Super Reviewer
A graphic, intense depiction of a road trip on the fly concerning two young, privileged, sex-crazed young men (Diego Luna, Gael Garcia Bernal) who are joined by an older, internally beaten wife (Maribel Verdu) who is dealing with the fact that her husband has been cheating on her. While it is often frank, and you can't really connect or like any of the characters outside of Verdu's, the film comes around nicely by its conclusion. It does overstep its bounds in its sexuality near its conclusion, and it is a little over-the-top in its nudity, but it is all done to maintain a realistic, gritty view of life in the slums and dirty roads of Mexico. The narration is sometimes intrusive, but often it is informative and willing to go the extra mile into detailing each aspect of the story. The concluding twist is a knockout blow, and the movie somehow makes you actually "get" these characters by the end. A very hard movie to recommend, but I respect its artistic message, even if it goes a little to far at times.
Dan Schultz
Super Reviewer