The Yards
(2000)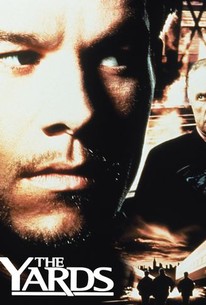 Movie Info
An ex-con struggles to make a clean life for himself, but his job in a Queens, New York subway rail repair yard embroils him in corruption and murder.
Critic Reviews for The Yards
Audience Reviews for The Yards
There's nothing more dangerous than an innocent man. Great Film! "The Yards" invites you to taste corruption and to witness an imposed morality and then slyly allows you to resolve its escalating entanglements. The acting by the ensemble cast is outstanding. All the players capture the essence of the New York middle class gestalt beautifully. Mark Wahlberg delivers a somber but resolute character trapped in a vortex of graft and corruption. His performance is understated yet powerful. James Caan is one of the best at playing the small-time racketeer and he nails it again with his portrayal of the dirty dealing supplier. Joaquin Phoenix also shines as Willie, giving him a macho personality and the ability to rationalize any act according to his own code of morality. The cast includes Faye Dunaway, Ellen Burstyn and Charlize Theron in strong supporting roles. Nothing else to say, simply watch it whenever you have the chance. You won't be disappointed. In the rail yards of Queens, contractors repair and rebuild the city's subway cars. These contracts are lucrative, so graft and corruption are rife. When Leo Handler gets out of prison, he finds his aunt married to Frank Olchin, one of the big contractors; he's battling with a minority-owned firm for contracts. Willie Gutierrez, Leo's best friend, is Frank's bag man and heads a crew of midnight saboteurs who ruin the work of the Puerto Rican-owned firm. Leo needs a job, so Willie pays him to be his back-up. Then things go badly wrong one night, a cop IDs Leo, and everyone now wants him out of the picture. Besides his ailing mom and his cousin Erica, to whom can Leo turn?
Bored the hell out of me. Was not that bad, I guess, if you like these type of crime family stories, but really wasn't in the mood to watch it and it failed to grab my attention. Dark and dingy in the filming, too. Good cast, acting is fine.
Nicki Marie
Super Reviewer
This movie started out a little slow, but it got interesting quickly enough. I am really starting to become an fan of Joaquin Phoenix. I enjoy watching him act. Really hope he decides to act again. Mark Wahlberg was great. Once the story gets going it holds your attention. Really liked the movie and its action. Thought everyone was great. Little weirded out with Mark and Charlize relationship since they are suppose to be cousins in the movie. But it explains it later on in the movie. But all in all a really good movie.
♥˩ƳИИ ƜѲѲƉƧ♥
Super Reviewer
The Yards Quotes
There are no approved quotes yet for this movie.