The Year My Voice Broke
(1987)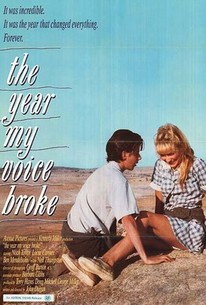 The Year My Voice Broke Photos
Movie Info
The life of a teen in an isolated small town is the subject of Australian writer/director John Duigan's film, set in 1962 in New South Wales. Duigan's coming-of-age story has many familiar elements -- Danny Embling (Noah Taylor) discovers his sexual attraction to a childhood playmate (Leone Carmen as Freya), he undergoes the taunts of bullies at his school, rages against the narrow-minded views of his parents and many of the townspeople, and comes under the influence of a sympathetic adult (Bruce Spence as Jonah, a would-be writer who lives in an abandoned railroad car). The twist is that Danny's rival for Freya's affections, Trevor (Ben Mendelsohn), is a Jewish jock who becomes Danny's friend by standing up to the bullies and treating Freya with more respect than the other boys do. Duigan, who had been making films in Australia since the mid-'70s, broke through to U.S. audiences with this film and its sequel, Flirting, in which Noah Taylor reprises the lead role.
Critic Reviews for The Year My Voice Broke
Audience Reviews for The Year My Voice Broke
A worthwhile trip to early Sixties, small town, Australia where burgeoning youth learns that even the most innocent of lives here on Planet Earth is fraught with difficulty. While American media seduced via music and movies about the possibility of a better life possibly somewhere else, the local populace of this rural outpost have to live with the apparent drabness of their own situation. The natural performances of the leads and the writer/director's sure knowledge of his source material quietly deliver this laid back home cooked meal designed to satisfy. A great suggestion by a dear friend.
Kevin M. Williams
Super Reviewer
½
I love coming-of-age and both Noah Taylor and Loene Carmen's longing for people they can never truly have is something we can all identify with and feel their pain.
Quinto Wallight
Super Reviewer
The Year My Voice Broke Quotes
There are no approved quotes yet for this movie.