Year of the Dog
(2007)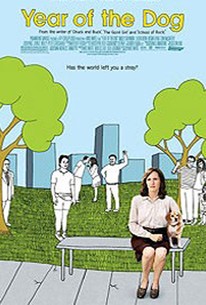 Movie Info
An unremarkable administrative assistant finds her life going to the dogs both literally and figuratively in actor/screenwriter-turned-director Mike White's dark comedy drama. An inexplicably cheerful office worker whose somewhat sad excuse for a life seems to revolve around her pet beagle Pencil, Peggy (Molly Shannon) seems to relate better to her four-legged friend than she does to most humans. Most of her person-to-person interaction revolves around doting on other people's children and treating her co-workers to daily donuts, and Peggy just doesn't find much solace in the company of her know-it-all sister-in-law Bret (Laura Dern) or her anxiety-prone boss Robin (Josh Pais). When Peggy's dog Pencil is taken before his time, the devastated dog-lover is wracked with guilt. Now desperate to fill the gaping void that has suddenly opened in her life, Peggy agrees to a date with her gun-nut neighbor Al (John C. Reilly) that ends in disaster when she begins to suspect that the boorish brute may have in fact poisoned her ill-fated pooch. Later, after adopting every dog at the local pound and transforming herself into an overzealous animal-rights activist, the increasingly unhinged Peggy reaches out to asexual activist Newt (Peter Sarsgaard) in a last-grasp attempt at forming a human connection that is met with casual indifference.
Critic Reviews for Year of the Dog
Audience Reviews for Year of the Dog
[img]http://images.rottentomatoes.com/images/user/icons/icon14.gif[/img]
Directors Cat
Super Reviewer
½
Year of the Dog, or what could also be called, The Life and TImes of an Animal Activist, focuses on Peggy, played with quirky yet lovable sentiment by Molly Shannon. Peggy is completely passive, and has no companionship in her life, except for her little dog. One day the dog dies and Peggy is forced to cope with the reality of death, yet also the reality of life. In her grief, she meets Newt (Peter Sarsgaard) who works at a pet clinic. He also opens her eyes to an entire world/industry that abuses animals, kills them, and turns them into food. She begins a naiive yet noble campaign to save as many animals as she can and inform as many people as she can about what is being done to many animals in test labs, slaughterhouses, even in the pound. Director Mike White has a knack for creating oddball characters. They are aplenty here, but it makes the film feel like a Wes Anderson picture, which is never a bad thing. The cinematography by Tim Orr borrows a lot from Anderson, and Jonathan Demme, as characters are framed in the centre speaking directly into the camera. Regardless of the unoriginality, the film works as a strange yet touching comedy.
Edward Boxler
Super Reviewer
½
This movie sucks. For Peggy, it seems dogs provide the love and attention she needs. But when tragedy strikes, Peggy goes a little crazy. But, I just don't see the point of the movie. It is agonizingly slow. The people in the movie are shallow. And it drives me crazy that Peggy couldn't see that she could be a dog-loving vegan if she wanted to, but no one can convince the whole world to turn into copies of herself.
Year of the Dog Quotes
| | |
| --- | --- |
| Peggy: | This is my love. It is mine, and it fills me and it defines me and it compels me on. |
| | |
| --- | --- |
| Peggy: | I've always been disappointed by people. I've only been able to really count on my pets. |
| | |
| --- | --- |
| Layla: | Peggy, how are you ever going to find a boyfriend, if you keep shacking up with dogs? |
| | |
| --- | --- |
| Newt: | Animals are like us. They live for love. |