The Yellow Handkerchief
(2010)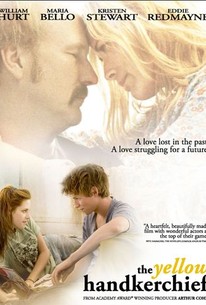 TOMATOMETER
AUDIENCE SCORE
Critic Consensus: Small and intimate -- occasionally to a fault -- The Yellow Handkerchief rises above its overly familiar ingredients thanks to riveting performances from William Hurt and Kristen Stewart.
The Yellow Handkerchief Photos
Movie Info
A love story at its core, :"The Yellow Hankerchief" is about three strangers of two generations who embark on a road trip through post Katrina, La. Along the way, relationships forge and change in a myriad of ways, leading to the possibility of second chances at life and love. Brett Hanson dealing with a painful past, crosses paths with Martine, a troubled teenager, and her new 'ride' Gordy. The trio head out together, each motivated by his/her own reasons: Brett must decide whether he wants to return to the uncertainty of his life and his ex-wife May for whom he longs, Martine yearns to escape her family and Gordy hopes to get close to her.
News & Interviews for The Yellow Handkerchief
Critic Reviews for The Yellow Handkerchief
Audience Reviews for The Yellow Handkerchief
On his way to meet his estranged wife, an ex-convict hitches a ride with a manic teenage runaway and a lost girl who seeks a father figure. William Hurt delivers another remarkable performance as Brett. Like few other actors, Hurt is able to capture the depth of a damaged soul, a man devastated by his luck and driven to despise his own role in the movie of his life. His scenes with Maria Bello are heart-warming, and he even makes Kristen Stewart look like a real actress. With Hurt by her side, Stewart abandons all her acting crutches -- clutching her hair, contorting her face into a semblance of human emotion, deadpan reactions that say nothing about her character. Hurt does more than make Stewart an actress; in her scenes with him, he makes her an interesting human being. I've seen many of Stewart's films, and this is the only one in which she is bearable. Director Udayan Prasad does a good job of visually capturing regret. A bare foot, someone walking by - a multitude of quotidian event can spark a reverie of regret, and Prasad turns a lazy narrative technique into a visual representation of Brett's inner life. The plot, however, is disappointing. Martine and Gordy don't have compelling backstories, and we are given no clue as to why Brett's story has such an emotion impact on them. When we finally discover the reason for Brett's incarceration, the event is a let-down compared to the build-up, and there isn't any evidence to convince the audience that Brett has learned anything during his time in prison; in fact, the film reinforces the fact that people don't change, and thus it's hard to root for Brett, even though Hurt's performance makes it difficult not to care for him at least a little bit. Overall, I don't see why William Hurt can't play Edward or Jacob or both; at least the leading lady wouldn't be so insufferable.
Jim Hunter
Super Reviewer
A little disappointing - kind of dull story that hinted at more than it actually was in the flashbacks. Good cast and good acting. I wouldn't say it is a horrible movie, or not worth watching, but I had hoped it would be better. Kristen is the standout here.
Nicki Marie
Super Reviewer
A love lost in the past. A love struggling for a future. Good movie. Kinda of a slow story but develops really well if you have the patience. The film's perspective is about tolerance, acceptance of things as they are, and forgiveness for loved ones and above all for ones self. A very good performance from William Hurt and everyone in this film. If you like road movies this is one to see, very deep. One lazy afternoon in a backwater Louisiana town, Martine takes a leap into an unfamiliar convertible. The driver, Gordy, an awkward young itinerant who eyed her in the diner earlier, isn't displeased to find this pretty sylph in his front seat. Soon they meet Brett, a laconic, humble man just released from prison. Martine isn't keen on going solo with Gordy, and now it's raining cats and dogs, so she invites Brett along, and the unlikely trio sets out, each person unsure of the destination. What ensues is a journey through the lush green byways of rural Louisiana and into the depths of these characters' souls.
The Yellow Handkerchief Quotes
| | |
| --- | --- |
| Gordy: | "This is your fate. Now you gotta play this out till the end or else you're gonna walk around like a ghost the rest of your life." |
| Gordy: | This is your fate. Now you gotta play this out till the end or else you're gonna walk around like a ghost the rest of your life. |