Yellowbrickroad
(2011)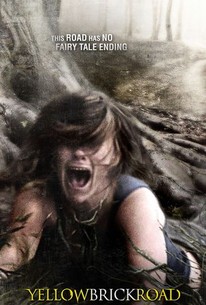 Movie Info
In the Fall of 1940, the entire population of Friar, NH abandoned their homes and walked up an ancient trail, never to be seen alive again. Their fates have remained a mystery for over 70 years, until a team of researchers discover the trailhead and attempt to track the path the doomedcitizens of Friar took. Yellowbrickroad is a return to the slow burn, character driven horror thrillers of the 1970s. -- (C) Official Site
News & Interviews for Yellowbrickroad
Critic Reviews for Yellowbrickroad
Audience Reviews for Yellowbrickroad
The only thing disturbing about this movie is that someone actually agreed to make it. I understand that it's an independent film, written, directed, and starring first timers, but anyone who read this script had to have known it just wouldn't work! Don't get me wrong, the story they had was extremely solid, and they could have taken it in a million different directions, any other direction than the one they took. The story starts 70 years ago, when an entire town randomly decides to follow a path into the woods and are never heard from again. The FBI investigated, covered up whatever they found, and kept the whole area off limits, until a random group of people decide to investigate for themselves and write a book about their experiences. First of all, this group of people have no connection to the town, people, or even each other, so why do this? Second, for 70 years the FBI has kept the area off limits to everyone, so what makes this group so special? These idiots march into the woods and the only thing they find is music playing, music that gets progressively louder until it drives them insane. The music is from the Wizard of Oz, but the producers were too cheap to buy the rights to the music from the Wizard of Oz, so it's very similar melodies with different words that nearly drove me to insanity. These idiots romp through the woods makes the Blair Witch Project look like an Oscar worthy film by comparison. It's a lot of talking, and crying, and yelling, that leads to an ending that is by far one of the dumbest fucking things I have ever seen. The ending is the strangest part of all, in that it builds up and plays like it's some huge twist, which maybe it would have been had it made any sense at all. The acting was terrible, the direction was all over the place, and the film destroys the story worst than Paula Deen destroyed her career. This is one film you should absolutely avoid!
Todd Smith
Super Reviewer
I liked this one. It just kept me wondering throughout the whole thing. A very good psychological horror flick.
Jacob Palacio
Super Reviewer
This movie has a great premise; in the thirties the residents of a small town disappeared after wandering on a trail. Now a documentary team discover the location of the trail and set off themselves to investigate, becoming more and more unhinged as they go. This promising idea is ruined by amateurish acting and directing and awful effects. A rare case of a movie that could be improved with a big budget remake.
The Movie Waffler
Super Reviewer
Yellowbrickroad Quotes
| | |
| --- | --- |
| Erin Luger: | TAKE OFF THE FUCKING HAT! |
| | |
| --- | --- |
| Teddy Barnes: | These questions will kill us. |
| | |
| --- | --- |
| Teddy Barnes: | I have some questions about the numbers... |