Yentl
(1983)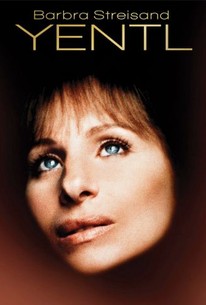 Movie Info
For her directorial debut, Barbra Streisand adapted Isaac Bashevis Singer's short story Yentl. Set in the early 1900s in Eastern Europe, Yentl is the story of a young Jewish woman who has to disguise herself as a boy in order to receive an education. Once she is studying among the Orthodox Jewish rabbis, she falls in love with another student; her situation is further complicated when a woman falls in love her. With the help of Michel Legrand and Alan and Marilyn Bergman (who won Academy Awards for their score), Streisand turned Singer's simple story into a full-blown musical, complete with 12 songs.
Audience Reviews for Yentl
½
Good film with lots of terribly bland songs.
Marcus Woolcott
Super Reviewer
Well done, but Barbara is a bit hammy. Pleasant (although often unmemorable) songs. And again -- doesn't Mandy Patinkin play the pan flute for a living nowadays?!
Christian C
Super Reviewer
½
This is La Streisand's show from opening to end credits. If you love Barbara, you'll love this flick, especially when she sings 'Papa, Can You Hear Me?' with full emotive expression. This film is her long-cherished adaptation of Isaac Basheviis Singer's short story, 'Yentl, The Yeshiva Boy.' As well as directing and starring, she produced, and she is the only person who gets to sing, despite the presence of renowned musical star Patinkin. Yentl (Streisand) is a young woman who wants nothing more than to study the Talmud, something forbidden to women. When her father dies, she cuts off her hair and convinces a Jewish school that she is a man so she can satisfy her hunger for knowledge. Things get complicated, however, when she becomes close to fellow student Avigdor (Mandy Patinkin), eventually falling in love with him, although she can not reveal her true self as she would then be expelled. Avigdor is in love with Hadass (Amy Irving), but religious law forbids him from marrying her. Granted, this flick is not everyone's cup of tea, and many of my Flixster friends have avoided to watch it. Yet, looking at the other side of a coin, this story of a woman who yearns to study, who lives in a culture that says study is only for men then disguises herself as a man in order to get that education is a story of a strong woman who breaks the gender roles of her time, and a tangled love story. What was typically the male role has been blurred and practically obliterated as well as captures the essence of the Jewish woman's eternal struggle. It describes a woman's search for freedom and her discovery not only of love but of herself. My dear Barbra captures the character beautifully, the songs and the expression in her eyes and voice displaying clearly the feelings of a woman struggling for knowledge and love but torn between her desire to learn and the tradition of her religion. As expected, the music and songs in Yentl received four Academy Award nominations, including two Best Songs. While David Watkin's photography is evocatively poetic, the film's pacing is overly reverential. Still, Streisand's voice very much remains her trademark.
Cinema Films
Super Reviewer