The Yes Men Fix the World
(2009)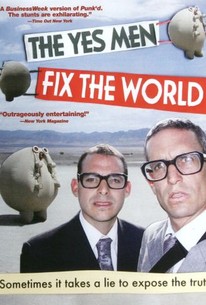 The Yes Men Fix the World Photos
Movie Info
Andy Bichlbaum and Mike Bonanno are "The Yes Men" -- two guys who combine political activism, performance art, and the love of a good prank in the name of demanding that the private sector take responsibility for the damage it has done to the world and its people. Bichlbaum and Bonanno specialize in setting up realistic-looking mock websites that claim to represent famous and powerful multinational corporations, and when they're contacted to speak on behalf of the companies, they deliver absurd satirical presentations that sometimes fool their audiences into believing they've seen the real thing. The exploits of Bichlbaum and Bonanno were chronicled in the 2003 documentary The Yes Men, and their further adventures have spawned a second film, The Yes Men Fix the World, which follows the radical pranksters as they claim responsibility for a major environmental disaster in Bhopal on European television, demonstrate a new corporate rescue orb, "defend" corporate interests in the wake of Hurricane Katrina, and publish a mock edition of The New York Times that declares the end of the war in Iraq. The Yes Men Fix the World received its world premiere at the 2009 Sundance Film Festival. ~ Mark Deming, Rovi
Critic Reviews for The Yes Men Fix the World
Audience Reviews for The Yes Men Fix the World
The merry pranksters "The Yes Men" are at it again - but this time their documentary is much cleaner and better produced than their 2003 original effort. What can you say about these guys except hurrah! They take the establishment and point out the foibles so aptly - they dupe the BBC into believing that a Yes Man is a spokesperson for Dow Chemical (and therefore announcing on a BBC news talk show that Dow will be paying full restitution to the Indian community wrecked by the chemical spill of United Carbide 20 years earlier - Dow purchased UC 3 years before the film). They further spoof Dow by becoming Dow's featured speakers at a corporate conference - claiming that they have perfected an algorhythm for determining acceptable human loss vs. corporate gains on any given project. The list goes on, with them aiming at the post Katrina carpetbaggers amongst other things, but it is simply amazing how they manage to not only get away with pulling the wool over the eyes of politicos and middle management types, but so succinctly point out the enormous greed that has such an effect over just about everything. It is almost surreal, like watching an enormous spoof or black comedy... until you remember that this is the real deal - this stuff is actually happening and the Yes Men are out there trying to raise the common consciousness by lampooning the way big business thinks and acts. As they say in the film - "we started out trying to fix the world, but our efforts seemed to have the opposite effect; so now we're aiming at simply drawing attention to the enormous farce that constitutes the way the world is run".
paul sandberg
Super Reviewer
These guys always deliver cutting edge political advocacy. Their little bits of imaginary "down time" distract from the overall film (and not in the requisite relief way I'm sure they were aiming for. Still there are plenty of gut-busting and giddying pranks, hard-hitting explications of their actions and exposes of those whom they are targeting, which are all solid and mildly to wildly brilliant.
_kelly .King
Super Reviewer
½
Subversive and cunning, the Yes Men succeed in making commitments on behalf of corporations while providing proof that companies often do not "do the right thing" and are lacking a soul. Daring and challenging. Why have I not heard of these guys before?
John Ballantine
Super Reviewer
The Yes Men Fix the World Quotes
There are no approved quotes yet for this movie.