Yesterday Was a Lie
(2009)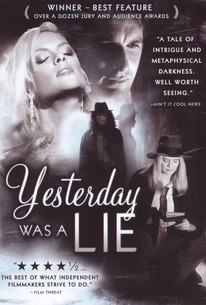 Yesterday Was a Lie Photos
Movie Info
Writer/director James Kerwin infuses Raymond Chandler-influenced noir with a metaphysical twist by tracing the story of a female detective who's tough enough to take on even Philip Marlowe in this monochromatic mystery designed to challenge the viewer's very perception of reality. Hoyle (Kipleigh Brown) is a hard-drinking detective whose taste for bourbon betrays her razor-sharp sleuthing skills. Set out on the trail of a reclusive genius (John Newton), however, Hoyle soon finds her life becoming increasingly fragmented and surreal. The only people that Hoyle can trust as she begins to uncover a series of mind-bending cosmological secrets are her loyal partner (Mik Scriba) and a scintillating lounge singer (Chase Masterson). But wherever Hoyle goes, she is shadowed by a mysterious figure (Peter Mayhew) whom she is soon destined to meet, and who may just possess the power to bend reality. In a world of black and white, Hoyle is about to take a bizarre journey into the divine gradients of grey invisible to the naked eye.
Critic Reviews for Yesterday Was a Lie
Audience Reviews for Yesterday Was a Lie
½
If you're a total sucker for noir with a sci-fi twist you'll find just enough interesting about this to sit through most of it. Mostly though it's reminiscent of cut-scenes you would find in late 90's PC adventure games; bad acting pasted on gorgeous landscapes. Except the problem here is that you have to sit through an hour and a half of it...all the while having to remind yourself that it's only rated PG and there aren't going to be any lesbian makeout scenes despite the appearance to the contrary, Trench coats and fedoras for everyone! And I mean literally everyone.
Brett Warren
Super Reviewer
Yesterday Was a Lie Quotes
There are no approved quotes yet for this movie.