Yo-Yo Girl Cop
(2006)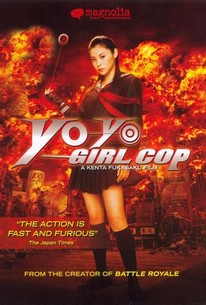 AUDIENCE SCORE
Critic Consensus: No consensus yet.
Movie Info
A female delinquent detective discovers an apocalyptic plot by a nefarious underground website in director Kenta Fukasaku's take on the popular serious previously adapted for the screen in film, television, and anime form. Asamiya (Aya Matsuura) is a tough New York City street kid who doesn't take kindly to authority figures. When Japanese officials discover a cryptic but undoubtedly sincere threat from a website known for offering tips on committing suicide and constructing bombs, they immediately have Asamiya whisked back to Tokyo, trained by the police force's special operatives unit, and placed under the care of stern Kazutoshi Kira (Riki Takeuchi). With few clues to go by and only 72 hours to spare, Asamiya must venture into Seisen High and wield her deadly yo-yo against a dangerous group who seems all too determined to set the city ablaze.
Critic Reviews for Yo-Yo Girl Cop
All Critics (2) | Fresh (2) | Rotten (0) | DVD (6)
It's not just the original concept that works for it, but the way the story is composed that keeps the film from becoming a C grade camp fest...
What's not to love about catfights, teenage secret agents, and slo-mo yo-yo action?
Audience Reviews for Yo-Yo Girl Cop
½
I expected this to be really cheesy and naff, and...well, in certain areas it still was. However, it was also a lot more seriously entertaining than I initially gave it credit for. The only thing I didn't really care for was the turncoat agent's stripperiffic PVC ensemble in the finale. I mean, who wears something so revealing when they know there's likely to be a serious fight?
I watched in absolute awe for this entire film. It promised a Yo-Yo Girl Cop and it certainly delivered that and more. In it's La Femme Nikita way of giving a girl a chance to save her mother by cooperating with the police we are shown a girl with everything to gain. It's great that she is uneasy at first, she makes mistakes and can't use her weapon to save her life. It's unashamedly fun and very damn sexy. I mean just when I didn't think it could get any better the last 20 minutes roll around and everybody is dressing sexier than they were previously and get into some awesome action fighting...with Yo-Yo's. I want a sequel NOW damnit. Don't expect anything too cerebral here, just break out a Yp-Yo and get ready to kick ass and get turned on.
Luke Baldock
Super Reviewer
½
Based off of the Yo-Yo Girl Cop anime, this live action film falls just a bit short of being truly spectacular.
The story is actually pretty good and it is just enough to push this movie along, since there is only minimal action. The title of this film is a little deceiving because the yo-yo aspect of the story isn't great and the yo-yo itself isn't put to good use until the ending.
This movie takes a different approach from other movies coming from animes or mangas. Instead of going for that over-the-top wackiness, this film focuses on a serious dramatic story with only a tad bit of comedy thrown in. This works out good, but the downside for this film is that it does feel a little slow at times and with only a 90 minute runtime you come to expect a little more out of this.
The action is minimal and this is a disappointment. After seeing the cover and the great stylish opening credits you think you are in for a fancy yo-yo roller coaster ride. No such luck. All the action is left until the very end and even then it isn't all that great. There is only one semi-big yo-yo fight and it isn't even with the final villain.
The acting is good, except for one person in the very beginning. Let me just say that the black woman playing an American officer puts on a horrible performance. The lead, Aya Matsuura, and the three members of Biyuuden carry the bulk of this film. So you have 4 beautiful girls running the show. Can't argue with that.
It is true that Yo-Yo Girl Cop isn't as entertaining as it sounds, but with the catchy theme song it is worth the watch.
Yo-Yo Girl Cop Quotes
There are no approved quotes yet for this movie.