Yoga Hosers
(2016)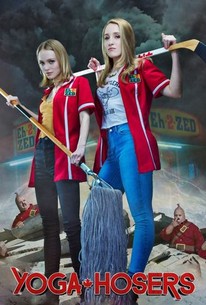 TOMATOMETER
AUDIENCE SCORE
Critic Consensus: Undisciplined, unfunny, and bereft of evident purpose, Yoga Hosers represents a particularly grating low point in Kevin Smith's once-promising career.
Movie Info
15-year-old yoga-nuts Colleen Collette and Colleen McKenzie love their smart phones and hate their after school job at Manitoban convenience store Eh-2-Zed. But when an ancient evil rises from beneath Canada's crust and threatens their big invitation to a Grade 12 party, the Colleens join forces with the legendary man-hunter from Montreal named Guy Lapointe to fight for their lives with all seven Chakras, one Warrior Pose at a time. Depp, Depp the younger and Smith the younger are returning in the roles they created for TUSK.
News & Interviews for Yoga Hosers
Critic Reviews for Yoga Hosers
Audience Reviews for Yoga Hosers
The girls are not bad, but the movie is just crap. Not funny.
Nicki Marie
Super Reviewer
½
From Kevin Smith comes the horror-comedy Yoga Hosers, the second entry in his True North trilogy. The story follows two convenience store clerks who get charged with murder when a party goes wrong, and to prove their innocence they team up with a private detective to hunt down a group of diminutive creatures who live beneath their store and are behind a string of murders. Harley Quinn Smith and Lily-Rose Depp lead the cast, and while Depp has a magnetic screen presence (like her father), Smith is death weight. The characters are poorly written, and the story is incredibly dumb. And, the humor isn't really that funny; lacking the clever wit of Kevin Smith's earlier films. Yet there are some fun cameos that longtime fans will enjoy, and the soundtrack is really well-done. But Yoga Hosers is little more than a vehicle for Kevin Smith and Johnny Depp to showcase (and work with) their daughters, and it all falls flat.
Dann Michalski
Super Reviewer
The story didn't really fit but the energy of the film works well. Kevin Smith still has some banter left in those fingers and I think it is a shame he is spends too much time with these comic book tv shows. The over the top style is fitting and all the characters are having a great time so it's hard not to be swept up in the fun. The film will divide audiences and I can see why people don't like it, certain people think Mallrats is a giant waste of time, not me though. Not without flaws but hardly the debacle people are painting it to be, these films are for certain fans so the isolation to the mainstream audience is clearly evident.
Brendan O'Connor
Super Reviewer
Yoga Hosers Quotes
There are no approved quotes yet for this movie.