Yogi Bear
(2010)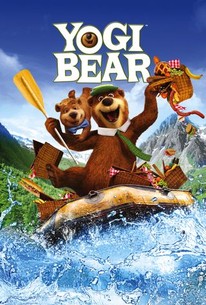 Movie Info
Everyone's favorite pic-a-nic basket-stealing bear comes to the big screen in "Yogi Bear," a new adventure, filmed in 3D, that combines live action with computer animation. Dan Aykroyd stars as the voice of Yogi, Jellystone Park's notorious troublemaker, and Justin Timberlake as the voice of Boo Boo, Yogi's faithful pal and co-conspirator in his never-ending schemes to separate park visitors from their lunches. Yogi has always relied on his quick wit and fast feet to stay one step ahead of irate campers while dodging his long-suffering nemesis, Ranger Smith. But he and Boo Boo are about to face a situation worse than anything Yogi has ever gotten them into... Jellystone Park is being sold! To cover his mismanagement of city funds and fuel his election campaign, Mayor Brown plans to sell the park to loggers. Families will no longer be able to experience the natural beauty of the outdoors Jellystone has always provided--and, even worse, Yogi, Boo Boo, and all their friends will be tossed out of the only home they've ever known. Faced with his biggest challenge ever, Yogi must prove he really is "smarter than the average bear," as he and Boo Boo join forces with Ranger Smith to find a way to save the park from closing forever. -- (C) Warner Bros
News & Interviews for Yogi Bear
Critic Reviews for Yogi Bear
Audience Reviews for Yogi Bear
Yogi Bear ruined the show for me, it was horrible and a complete mess of a film.
Jim Careter
Super Reviewer
½
Cast: Dan Aykroyd, Justin Timberlake, Anna Faris, Tom Cavanagh, T.J. Miller, Nathan Corddry, Andrew Daly, Josh Robert Thompson, David Stott Director: Eric Brevig Summary: When the greedy mayor (Andrew Daly) decides to close Jellystone Park to cash in by selling the land, Yogi Bear (voiced by Dan Aykroyd) and his sidekick Boo-Boo (voiced by Justin Timberlake) must team with their adversary, Ranger Smith (Tom Cavanagh), to save their home. Meanwhile, filmmaker Rachel (Anna Faris) follows Yogi and captures his antics. My Thoughts: "Dan Aykroyd and Justin Timberlake deserve props for the voices. They did a great job. But the film itself was a little on the boring side bringing very few laughs. My niece's and nephew completely disagree with me, as they should considering they are the audience for which this film was intended to be made for. But us grown ups who loved this cartoon as a child will in the end, prefer the cartoon over the film."
♥˩ƳИИ ƜѲѲƉƧ♥
Super Reviewer
This is about as good as a live action yogi bear movie that's gonna be made. Lot like the chipmunk movies, but no as funny. I'm sure kids will love it,i'm gonna stick with the original cartoons.
Everett Johnson
Super Reviewer
Yogi Bear Quotes
| | |
| --- | --- |
| Yogi Bear: | Check the safety manual!! |
| Yogi Bear: | Check the safety manual! |
| Boo-Boo: | It's just a picture of us screaming!! |
| Boo-Boo: | It's just a picture of us screaming! |
| | |
| --- | --- |
| Ranger Smith: | Boo Boo, I don't think we need the narration. |
| Yogi Bear: | But I like were you were going with it, Boo Boo! |
| | |
| --- | --- |
| Yogi Bear: | Picanic baskets may be delicious on the lips, but they're a lifetime on the hips! |
| | |
| --- | --- |
| Ranger Smith: | We got a bear disturbance! |
| Ranger Jones: | All units, lock the park! I repeat, lock down the park! |
| Ranger Smith: | You know I'm the only other ranger here, right? |