You Ain't Seen Nothin' Yet!
(2013)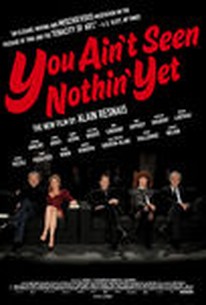 You Ain't Seen Nothin' Yet! Photos
Movie Info
Based on two works by the playwright Jean Anouilh, YOU AIN'T SEEN NOTHIN' YET opens with a who's-who of French acting royalty being summoned to the reading of a late playwright's last will and testament. There, the playwright (Denis Podalydès) appears on a TV screen from beyond the grave and asks his erstwhile collaborators to evaluate a recording of an experimental theater company performing his Eurydice-a play they themselves all appeared in over the years. But as the video unspools, instead of watching passively, these seasoned thespians begin acting out the text alongside their youthful avatars, looking back into the past rather like mythic Orpheus himself. (c) Kino
Critic Reviews for You Ain't Seen Nothin' Yet!
Audience Reviews for You Ain't Seen Nothin' Yet!
½
The theatricalization of Cinema as intended by Resnais may be absorbing at first as it explores a touching sense of nostalgia from the characters/actors, but this scene play is not compelling enough to deserve two hours, becoming artificial and vapid after a while.
Carlos Magalhães
Super Reviewer
In "You Ain't Seen Nothin' Yet," famed playwright Antoine d'Anthac(Denis Podalydes) has died. His last request is for some of his favorite actors and other creative collaborators to meet at his house. What he would like them to do is judge a new version of his play "Eurydice" performed by a warehouse theatre group who apparently spent most of their budget on a cool looking pendulum. Even with one seriously wonky framing sequence, director Alain Resnais, with his penultimate film "You Ain't Seen Nothin' Yet," turns two of his favorite obsessions, theatre and surrealism, into a mindblowing experience. Throughout the body of the movie, with a little help from split screen, he seamlessly combines three productions of a play(starring Sabine Azema & Pierre Arditi, Anne Consigny & Lambert Wilson and Vimala Pons & Sylvain Dieuaide respectively) that occasionally inhabit the same space.(Thus proving we have to find out to how to clone Mathieu Amalric.) This is no mere experiment as it allows the viewer to not only see the differences in various adaptations but more specifically in how the actors interpret the work.
½
I'd be tempted to think the film was all just some pretentious exercise if it wasn't so moving. Resnais (who's 91 by the way) has put together something totally remarkable here, as he combines so many different styles and still manages to make the film thematically consistent.
Alec Barniskis
Super Reviewer
You Ain't Seen Nothin' Yet! Quotes
There are no approved quotes yet for this movie.