You Can't Cheat an Honest Man
(1939)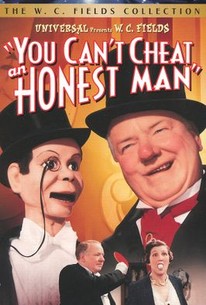 AUDIENCE SCORE
Critic Consensus: No consensus yet.
You Can't Cheat an Honest Man Photos
Movie Info
In his starring film for Universal Pictures, W.C. Fields plays circus manager and all-around flim flam man Larson E. Whipsnade. When he's not trying to fleece the customers or elude the sheriff, Whipsnade busys himself trying to break up the romance between his daughter Vicky (Constance Moore) and carnival ventriloquist Edgar Bergen (playing himself). He also carries on a running feud with Bergen's nattily attired dummy Charlie McCarthy ("I'll slash you into venetian blinds!"). Bergen's other dummy is Mortimer Snerd, who occasionally comments upon the action in his own thickheaded fashion. Anxious to arrange a marriage between Vicki and the wealthy Roger Bel-Goodie III (James Bush), Whipsnade disposes of Bergen and his dummies by sending them aloft in a hot-air baloon. Attending a party at the Bel-Goodie mansion, Whipsnade makes a pest of himself by constantly referring to snakes, a subject that invariably causes Mrs. Bel-Goodie (Mary Forbes) to swoon. He also engages in a zany ping-pong tournament with socialite Ronnie (Ivan Lebedeff). But it is Vicki, and not Whipsnade, who breaks up the engagement by telling off her pompous fiance. At that very instant, Bergen, having escaped from the balloon, arrives to claim Vicki and to help Whipsnade escape the sheriff once more. A partial remake of the W.C. Fields silent Two Flaming Youths, You Can't Cheat an Honest Man was scripted by Fields under the pseudonym "Charles Bogle." As published in the 1973 compendium W.C. Fields by Himself, the original screenplay was to have had dramatic overtones, including the death of Fields' trapeze-artist wife and a climactic soul-baring scene wherein Fields expresses his genuine love for his daughter. All this was jettisoned when it was decided to capitalize on the Fields-Charlie McCarthy "feud" then blazing on radio's Chase and Sanborn Show. While nowhere near as funny as Fields' subsequent Universal feature The Bank Dick, You Can't Cheat an Honest Man still contains a generous supply of laughs. Our favorite line: "Somebody's taken the cork out of my lunch."
Critic Reviews for You Can't Cheat an Honest Man
All Critics (1) | Fresh (1) | Rotten (0)
Not as undiluted as It's a Gift or The Bank Dick, but invaluable if only for Fields' flirtation with the resident ping-pong nympho
Audience Reviews for You Can't Cheat an Honest Man
½
So I'm on a ventriloquist kick right now, it's all Jeff Dunham's fault.
½
It's not W.C. Fields's best, but it does have quite a few funny moments.
Anthony Valletta
Super Reviewer
You Can't Cheat an Honest Man Quotes
There are no approved quotes yet for this movie.