You Can't Run Away From It
(1956)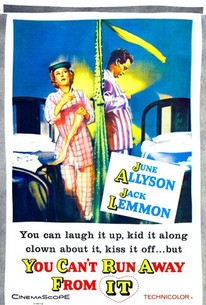 AUDIENCE SCORE
Critic Consensus: No consensus yet.
You Can't Run Away From It Photos
Movie Info
You Can't Run Away From It is a musical remake of Frank Capra's Oscar-winning classic It Happened One Night, complete with same-named characters and word-for-word scene reconstructions. It all begins when spoiled heiress Ellie Andrews (June Allyson) is literally kidnapped from the altar by her wealthy father (Charles Bickford). Escaping from her daddy's yacht with only a handful of clothes and minimal finances, Ellie hops a bus, intending to travel cross-country to be reunited with her fortune-hunting husband. Reporter Peter Warne (Jack Lemmon), sensing a swell newspaper story, tags along. Though Peter and Ellie aren't terribly fond of one another (that's putting it mildly!), by the end of their journey they've fallen in love -- but there are still several last-minute complications before a happy ending can be reached. Most of the musical numbers in the remake are awkwardly inserted during the more famous scenes from the Capra original: the "Walls of Jericho," the impromptu singalong on the bus, the hitchhiking bit, etc. Benefiting from the breezy performances of Jack Lemmon and June Allyson, You Can't Run Away From It is easy to take, but hardly within shouting distance of the original film's brilliance.
Critic Reviews for You Can't Run Away From It
Audience Reviews for You Can't Run Away From It
Pale imitation of It Happened One Night fails to capture the magic of the first, a fools errand, but is pleasant enough. One of the problems is that Jack Lemmon & June Allyson share little chemistry, a vital component to the first film. Well made but lacking.
You Can't Run Away From It Quotes
There are no approved quotes yet for this movie.