You Can't Take It With You
(1938)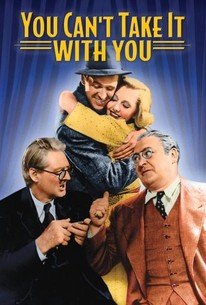 TOMATOMETER
AUDIENCE SCORE
Critic Consensus: It's predictably uplifting fare from Frank Capra, perhaps the most consciously uplifting of all great American directors -- but thanks to immensely appealing performances and a nimble script, You Can't Take It With You is hard not to love.
You Can't Take It With You Photos
Movie Info
Moss Hart and George S. Kaufman's whimsical Pulitzer Prize-winning Broadway play +You Can't Take It With You was transformed into a paean to populism by director Frank Capra and screenwriter Robert Riskin. This is the story of the zany Sycamore household, presided over by Grandpa Vanderhof (Lionel Barrymore), a former businessman who has turned his back on commerce to enjoy life. At the Sycamores', everyone does just what he or she pleases. Penny Sycamore (Spring Byington), Grandpa's daughter, has become a novelist because someone delivered a typewriter to her home by mistake. Penny's husband makes firecrackers in his basement with the help of Mr. DePinna (Halliwell Hobbes), an iceman who showed up at the Sycamore doorstep one day and never left. Their daughter, Essie (Ann Miller), imagines that she's a prima ballerina, even though her dour teacher, Boris (Mischa Auer), assesses her work with, "Confidentially, it steenks!" Essie's husband, Ed (Dub Taylor), who'd rather play a xylophone than work, spends his free time selling Essie's candy, wrapping each package in paper from a used printing press that dispenses anarchistic slogans. The one normal member of the household is Alice Sycamore (Jean Arthur), in love with wealthy Tony Kirby (James Stewart). Naturally, when the stuffy, aristocratic Kirbys come to the Sycamores' for dinner, the event is a disaster, capped with the arrest of everyone in the household. Hart and Kaufman's third act found the previously judgmental Kirby softening his attitude toward the freewheeling Sycamore clan, admitting that he's never had so much fun in his life. Screenwriter Riskin altered the focus of the play by throwing out the third act and concentrating upon Tony Kirby's father, Kirby Sr., who as played by Edward Arnold is transformed from a stock stuffed shirt into a ruthless, grasping tycoon, eager to buy up every house on the Sycamores' block to make room for a munitions plant. The film thus became the story of Kirby's regeneration at the hands of the carefree Sycamores. Enough of the play's screwball elements are retained to compensate for Riskin's speechifying and plot distortions (though the softening of one of the play's vital ingredients, Grandpa's refusal to pay his income tax, borders on the sacrilegious). You Can't Take It With You earned several Academy Awards, including Best Picture and Best Director (Capra's third Oscar).
Critic Reviews for You Can't Take It With You
Audience Reviews for You Can't Take It With You
½
A son of a business magnate proposes to a lower class girl whose eccentric family stands in the way of business's progress. Frank Capra is a legendary director, and everybody loves him. But I don't. I didn't like It's a Wonderful Life mostly because it isn't. I didn't like Mr Smith Goes to Washington mostly because it was overly simplistic. And "You Can't Take It with You is so remarkably preachy that I found myself rolling my eyes so often I soon developed a headache. I'm essentially politically aligned with Capra's left-wing compassion, but the characters seem more motivated by the director's political arguments than they are motivated by specific characterizations or the story's demands. I also found the antics of the Sycamore household ridiculous. The ballet dancer, the Russian, the fireworks -- all of it just seems so off the wall that I had trouble suspending my disbelief, and once again, I rolled my eyes. Overall, I'm aware that I'm in the minority with my dislike for Capra, but I still think this film is great if you want to roll your eyes a lot
Jim Hunter
Super Reviewer
The well-born Tony Kirby (James Stewart) falls in love with Alice (Jean Arthur), whose family, the Sycamores, are eccentric, to say the least. Her maternal grandfather (Lionel Barrymore) supports a cast of inventors and dancers and always has one more place at his table for guests, no matter where they come from, while on the Kirby side, it's not acceptable to associate with anyone not of the upper crust. What else could this setup provide other than a lesson about the worth of one's name and reputation versus that of one's money? To this fable add some wacky comedy and some stirring speeches, and what you get is another working class classic from Frank Capra that's not to be missed.
Daniel Perry
Super Reviewer
½
This is Frank Capra's Oscar winning adaptation of a play about a family who helps show a wealthy financier that there's much more to life than money. Alice Sycamore (Jean Arthur) is the only person in her eccentric family who seems rather normal. She falls in love with a nice young guy (James Stewart) whose parents are incredibly wealthy and don't approve of his relationship to Alice, nor his desire to marry her. Alice tries to change Tony's parents's minds by inviting the mto dinner, but, thanks to her family, things don't go as planned. All in all, this is typical Capra schmaltz: sentimental, charming, hard to really hate, and very populist. I enjoyed the film, but it's overrated, and maybe not necessarily deserving of Best Picture. The problem is not the message or the acting from an excellent cast (which includes a delightful Lionel Barrymore), but the execution. The first half is slow, meandering, and thigns don't really pick up or get interesting until the latter half. Even then, the film is predicatble, and doesn't really do anything new or groundbreaking. However, it is still pretty entertaining, well-meaning, and humorous, so, despite it's flaws, it's an old fashioned feel-good film worthy of a watch.
Chris Weber
Super Reviewer
You Can't Take It With You Quotes
There are no approved quotes yet for this movie.