You Got Served
(2004)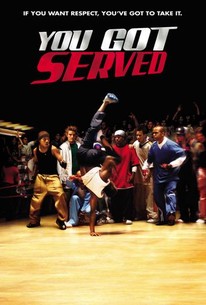 Movie Info
This hip-hop tale which explores the social subculture of street dancing, focuses on a pair of friends, named David and Elgin, who want to open their own hip-hop dance and recording studio. However, in order to make that dream come true, they must first win a street dance competition against another group of dancers to prove that they have talent. When Elgin and David have a falling out, it threatens their shot at the big time.
News & Interviews for You Got Served
Critic Reviews for You Got Served
Audience Reviews for You Got Served
½
It's dull in plot and flat in performance, but You Got Served's undeniably talented choreography and energetic dance numbers is just enough to shroud the plentiful missteps the film took. 3.5/5
Eugene Bernabe
Super Reviewer
½
It was "cool". Other than the dancing, everything else was cheesy: acting, scenes, etc. Good to watch once, but nothing more.
Eric Alvarez
Super Reviewer
Today, I will review the critically acclaimed Academy Award winning musical, "You Got Served". I've seen quite a couple movies about dance crews. Many have great dancing but don't really have a plot. I give "You Got Served" kudos for actually having a story. Its about a dance crew (OBVIOUSLY!) who is famous around the neighborhood. They called up by another dance crew to do a dance-off (OBVIOUSLY!) with the reward being fifty grand. After the dance-off, the crew finds out that most of their moves were taken. They get SERVED by the other crew and comepete in a professional dance-off where not only they win a lot of moola, but get casted in Lil' Kim's new music video. I forgot to mention the film's subplots. There is a romance subplot that revolves around Omarion and the cute Jennifer Freeman and a whole lazily developed gangster crime subplot. The crime subplot didn't work and the romance was "meh". "You Got Served" is like watching an episode of a BET series extended to movie length. I really like hip-hop and break dancing but this movie just didn't work. I find it so funny how the creators try to get us emotionally attatched to the characters. I know you readers are not gonna waste your time seeing this depending on your tastes but one character gets killed off-screen. The acting was okay not terrible. The acting looks like "YGS" was an amateur film for YouTube. By the way the characters act and go along, we know we're not going to remember them by the time the film ends. These aren't memorable characters. Break dancers just come and go. Predictability level: high and low. At some points we knew how it was gonna go down and some points we don't. Lastly, the dancing. Good but not great. Dance moves are so familiar and been-there-done-that. Better than many dance flicks but it still isn't anything special. I've seen many movies that are so better than this. We can say that the writer/director of the film just got SERVED by better directors! I'll just watch "America's Best Dance Crew" for the time being. From the creators of "You Got Served" comes "Voltron": http://www.youtube.com/watch?v=6OvfuLI2CBc&feature=related
Bentley Lyles
Super Reviewer
You Got Served Quotes
There are no approved quotes yet for this movie.