You Only Live Once
(1937)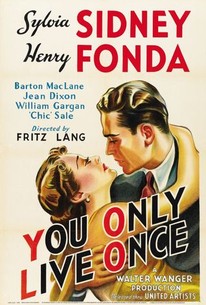 Movie Info
Archetypal depression-era stars Henry Fonda and Sylvia Sidney are felicitously teamed in Fritz Lang's You Only Live Once. Fonda plays an ex-convict who can't get a break on the "outside". He marries Sidney, who like her husband is one of life's losers. Framed on a murder rap, Fonda is forced to take it on the lam, with his wife and baby in tow. In trying to avoid capture, Fonda becomes a murderer for real, condemning himself and Sidney to an early demise. Partly based on the legend of Bonnie and Clyde, the Gene Towne-Graham Baker screenplay stacks the deck against its protagonists to such an extent that the audience is virtually forced to hate their various antagonists. As superb as Henry Fonda is in portraying the foredoomed hero, Sylvia Sidney is even better as his wife; her reading of such lines as "We just call him...baby" are enough to shrivel the heart even after six decades.
Critic Reviews for You Only Live Once
Audience Reviews for You Only Live Once
This film features a similar storyline to the Pre-Code Hollywood classic "I Am a Fugitive from a Chain Gang," without the drama of it being a true story. This film also adds a fresh faced romantic interest, who powers much of the story and serves as the protagonist's main motivation. The narrative follows the story of former convict Eddie Taylor (Ford) who is finally going straight, as he marries his sweetheart Joan (Sidney) and tries to get a job. Though he tries to do good he's framed for theft and murder, and the rest of the film features him trying to clear his name and get back to his wife. The main moral of the story is not to discount those who are trying to get their lives back together, and the more important lesson is that when you believe someone will commit a crime, eventually they will have to, to be free. This is a narrative that could use more attention in our modern times, when recidivism is at an all-time high, and police brutality is in the national spotlight. While the film overall plies itself with melodrama all too often, it's a classic example of the way Fritz Lang made his films, utilizing the emotions of his audience while also showing a story steeped in violence. This isn't his absolute best film, but it is one of the more memorable, and one that I would recommend wholeheartedly.
Spencer S.
Super Reviewer
quite good early lang and henry fonda and sylvia sidney have lovely chemistry together. it's an early 'lovers on the run' story, similar to ray's 'they live by night'. i don't really see how this isn't considered film noir except that it's just outside the time frame
Stella Dallas
Super Reviewer
½
This movie reminded me of better movies from the 40s. It's an alright story and all, but I couldn't get into it, the dialogue was less than average, and so was the acting. Overall, not a great movie, but not horrible, it does have a realistic story.
You Only Live Once Quotes
| | |
| --- | --- |
| Eddie Taylor: | And I wanted to go straight. |
| | |
| --- | --- |
| Eddie Taylor: | you only live once |
| Eddie Taylor: | You only live once. |