You Only Live Twice
(1967)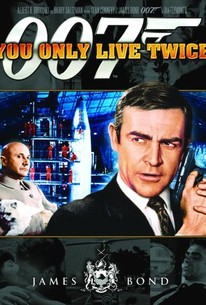 TOMATOMETER
AUDIENCE SCORE
Critic Consensus: With exotic locales, impressive special effects, and a worthy central villain, You Only Live Twice overcomes a messy and implausible story to deliver another memorable early Bond flick.
You Only Live Twice Photos
Movie Info
In the fifth James Bond thriller starring Sean Connery, Bond has to battle Ernst Stavro Blofeld and SPECTRE, who have been gathering Russian and American spacecrafts in a diabolical plan to begin WWIII. Though Roald Dahl's script contains some serious lapses of logic, the film is entertaining.
Critic Reviews for You Only Live Twice
Audience Reviews for You Only Live Twice
½
Bond goes to the Orient to try to stop a plan to start thermonuclear war between the superpowers. Charting elements of the Cold War, the space race, and Brit inadequacy, there's mucho action, mucho testosterone, and still time to fondle some of that Asian love. A Bond lovers paradise, with Nancy Sinatra helming the earworm theme song this time around.
Kevin M. Williams
Super Reviewer
½
The James Bond film where the Austin Powers franchise derives most of it's material from. Contains some of the franchises most electrifying action sequences and special effects work (the gadgets in this film are simply awesome). Arguably the true star of this movie are the fantastic set designs by Ken Adam, the unsung hero of the early JB films. Every single set in this movie, especially the awe-inspiringly massive SPECTRE volcano base, is breath-taking in it's creativity and imagination. I also love the great on-location shots in Japan and John Barry's score is one of his best. So with all these elements, what prevents this movie from being a great JB entry? Two things... 1) The plot is very convoluted, messy, and not even remotely plausible. The initial set-up of James Bond faking his death becomes pretty meaningless after the first 20 minutes and the sequence in which James Bond LITERALLY turns Japanese feels like complete time-killer. 2) Around this time, Sean Connery was starting to lose his enthusiasm for the role that made him into a superstar and it shows in his substandard performance. He is far from bad, but the dashing playboy-esque charm of his previous performances feels sadly absent from the proceedings. Regardless of these flaws, this is an extremely fun movie and great for fans of over-the-top James Bond.
Christopher Heim
Super Reviewer
½
It may not have the best story, which is what the first two bond films benefitted from, but the action is absolutely brilliant and heart-pounding. Bond is at it again, and as he fakes his death in order to sneak into Japan and earn some ninja sidekicks (sounds cheesy I know). On his 'second life,' he must stop a space terrorist from stealing cargo and starting a nuclear war on earth. This film is very farfetched in terms of it's plot, but the execution is far greater than you would expect. A little overlong and a tad too cheesy, "You Only Live Twice" is not one of the better bond films, but it has some of the best actions sequences.
You Only Live Twice Quotes
| | |
| --- | --- |
| Ernst Stavro Blofeld: | You a make a mistake, my friend. No austronaut enters the capsule carrying his air conditioner |
| Ernst Stavro Blofeld: | You a make a mistake, my friend. No austronaut enters the capsule carrying his air conditioner. |
| | |
| --- | --- |
| Aki: | i look forward to working under you Mr Bond |
| Aki: | i look forward to working under you Mr Bond. |
| Aki: | I look forward to working under you Mr Bond. |
| | |
| --- | --- |
| Ernst Stavros Blofeld: | As you can see, I am about to inaugurate a little war. In a matter of hours after America and Russia have annihilated each other. We shall see a new power dominating the world. |
| | |
| --- | --- |
| Ernst Stavros Blofeld: | James Bond. Allow me to introduce myself. I am Ernst Stavro Blofeld. They told me you were assassinated in Hong Kong. |
| James Bond: | Yes, this is my second life. |
| Ernst Stavros Blofeld: | You only live twice, Mr. Bond. |