You Shoot, I Shoot
(2002)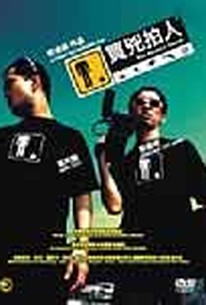 AUDIENCE SCORE
Critic Consensus: No consensus yet.
You Shoot, I Shoot Photos
Movie Info
As the Hong Kong economy takes a hit and the killer-for-hire business falls into a slump, a camera man and a professional killer team up to offer the perfect package deal in director Pang Ho Cheung's dark urban comedy. Despite the Asian financial crisis, there are still people in the overcrowded metropolis of Hong Kong that need to die. Bart is a seasoned hit-man dejected by the lack of work, and Chuen is a talented assistant director in search of a fascinating subject. When the desperate pair discovers that both have a talent for "shooting," they decide to pool their resources and offer their clients visual proof that the murderous missions have been successfully executed.
Critic Reviews for You Shoot, I Shoot
There are no critic reviews yet for You Shoot, I Shoot. Keep checking Rotten Tomatoes for updates!
Audience Reviews for You Shoot, I Shoot
½
You Shoot, I Shoot may sound like some really stupid movie, but it is stupid in a good way. This film is like something out of the Coen's book. It is weird, but wildly entertaining.
So you have a guy, Bart, that kills people and another guy, Cheun, that films it. What makes this story so entertaining is the fact that Bart's profession is no secret to his close friends. You actually have a scene with Bart, Cheun, Bart's wife, and his parent in-laws talking openly about killing people.
The story seems to go nowhere in the beginning, but the wacky opening credits, the dialogue, and the amateurish, yet effective, camerawork keep the audience in the film. Around the 50 minute mark is where the stories biggest element unfolds, which will carry you to the very end. At the top of the hour the film gets a little dramatic, but thankfully it only lasts for about 10 minutes before picking up for the 30 minute finale.
The acting is over the top at times. The two leads, Eric Kot and Tat-Ming Cheung are comparable to a George Clooney from Burn After Reading. In other words, it is entertaining. There is also some cute female actresses in here with Asuka Higuchi leading the way.
You Shoot, I Shoot is Ho-Cheung Pang's debut film and it is a successful one. This is a nice watch if you are in the mood for near dark comedy.
You Shoot, I Shoot Quotes
There are no approved quotes yet for this movie.